Hands-On: Hitman 3 is a globe-trotting escape from the pandemic
Agent 47's on top of the world, so watch out below…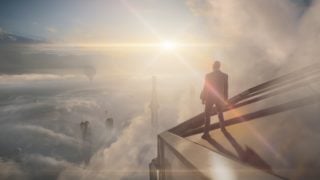 As we dream of freedom from lockdown, Hitman 3 could be just the ticket.
For one, it *is* a ticket: an invitation to some of the most sumptuous virtual destinations in gaming history. The trilogy's called 'world of assassination' for a reason. It also lets us live the pandemic fantasy of killing a deadly virus, if you replay the Sapienza level (as before, previous Hitman stages can be imported into 3).
But today we're all about the new locations. Within minutes of starting Hitman 3 you are atop a Dubai skyscraper. Basically the Burj Khalifa without infringing on copyright. As other roofs poke through the clouds and hot air balloons swoop past the atrium it's truly a sight for sore eyes. And it's going to become a site for sore heads as Agent 47 starts whacking waiters, stealing uniforms and stalking his prey.
It packs a lot into a few floors. An opening gala fills the halls with hundreds of watchful eyes, but also hosts an art installation with dodgy wiring and a backstage area where the events team's chaos can be escalated into murder. And, of course, you're on top of the world, so you're only ever one push away from a vanished body. The game handily skips over the mess you'd be making of the pavement below.
After two games and 14 locations, it doesn't seem as if IO is running out of horrible deaths. There's a fantastic takedown involving the building's evacuation protocol and a pair of shredded parachutes. But it's also lost none of its eye for subtle malice: a man leaning on an unscrewed balcony railing is just as comic for its simplicity. Of course, to reveal more assassinations is to take away the thrill of discovery.
What bigger changes there are focus on getting you to engage with this variety. Hitman has struggled to teach people how Hitman really works. Fans of the series get it: these are levels designed to be played tens, if not hundreds of times as you find new assassination methods and carve off seconds to pump the end of level score. Players trained on the one-and-done style of most games might zip through without scratching the surface. Here Hitman 3 offers some solutions.
Mission stories, which are more guided experiences through the level, return from the first two games. But there are fewer of them – in the first two levels, at least – and they offer more thorough tours of each location. In one of Dubai's stories, Agent 47 arrives by skydiving to the building (a mash-up of several Mission Impossible set pieces at once) and orchestrates a meeting of two targets in a hacking adventure that takes him from the public lobby to the private penthouse at the top. On the way, you spy all the chess pieces to meddle with on future re-runs.
"Fans of the series get it: these are levels designed to be played tens, if not hundreds of times as you find new assassination methods and carve off seconds to pump the end of level score."
The idea is even better felt in Dartmoor, where your target is the head of a household rocked by a recent murder. In this stage, you can steal the identity of a private detective and get a run of the whole estate – a level of access no other level in the series has offered you. What plays out feels like a different game. It's a mini murder mystery with clues to find and suspects to quiz. After 90 of investigating your brain bubbles with ways you could add to the manor's victim count.
To be fair, these mission stories are more of an idea perfected than out and out innovation. One properly new mechanic to lure people into replays is the introduction of permanent shortcuts. Traditionally Hitman levels reset in their entirety. They are grand clockwork structures for you to disrupt, and randomness wouldn't play nice with that. But levels in Hitman 3 include doorways and ladders that, once found and unlocked, remain open in future playthroughs.
I was worried these might undermine the purity of a Hitman run, but really they just cut out busywork from each destination. By finding your way to them in the first place you show a solid command of the level and these new access points simply recognise that. Given that the size of IO's stages often scares people away from chasing best times, this speedier access to key locations should invigorate the leaderboard competition, too.
Outside of these tweaks, there are fewer leaps than we saw between Hitman 1 and 2. Agent 47 has a camera for hacking locks and analysing clues (handy when playing Dartmoor detective), but it's more of a story gimmick than a versatile tool. As far as I can tell, older levels haven't gained hackable doors in the same way they were updated with extra bushes in Hitman 2. The camera does add a basic photo mode to the game, though, letting you admire that sensational environment design.
Given that so much of Hitman's appeal lies in that stunning recreation of local colour, the most meaningful tweak comes from updates to IO's Glacier engine. Lighting and reflection are much improved – those polished Dubai floors shimmer with luxury and expense – and tech upgrades are applied to Hitman 1 and 2 levels, too. The facelift is reason alone to dip into those familiar places; the glass-filled retreat at the top of a Hokkaido mountain looks truly sensational in 2021.
And that's the unique thing about IO's Hitman trilogy: it isn't a set of isolated games with uneven quality between sequels, but an ever-morphing project that drags its past with it. Not unlike Agent 47, I guess: the social chameleon whose shady past is forever on his heels as the trilogy's tale unfolds. Whether he gets the satisfying ending he deserves we'll find out in a few weeks. On the strength of these first two levels, Hitman 3 looks like another perfect escape.
Related Products
Other Products
Some external links on this page are affiliate links, if you click on our affiliate links and make a purchase we might receive a commission.