GTA dev's robot sim was one of the best games at Gamescom
Educational, non-violent colonisation sim has huge heart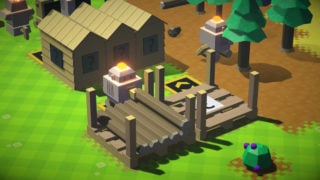 You'd be hard pushed to find an upcoming game with more heart than Curve Digital's Autonauts.
The colourful colonisation sim – which is created by a pair of former DMA Design (aka, Rockstar Games) developers – feels like it has it all; it's cute, educational, its mechanics are surprisingly deep and unlike the majority of games on the shelves today, it features no violence whatsoever.
The game sees players visit procedurally generated planets and harness their natural resources to build an army of programmable AI helpers to aid their colonisation efforts.
Players can teach their "Workerbots" to perform a variety tasks including building, farming and cooking using a "powerful but easy to pick-up" visual programming language designed for users of all ages.
"It's a game about automation, colonisation, resource management, programming… a game about lots of things," creative director Gary Penn explains.
"We created and released a prototype a few years ago and we've used that ever since to shape the main game. Things like the fact there's no threat or danger in the game has come from real players. You're free to play in a more chilled fashion, without any time pressure or anything like that.
"We had a few people ask why we don't use this tech to build castles and have big battles, but we didn't want that. There's zero threat in the game: we took out time limits, death… everything.
"Originally we had colonists dying and you'd have to take their remains in little boxes and burn them… it was tastefully done but players hated it: they'd invested so much time building their colony that they hated seeing it fall apart."
For those of a certain age, Autonaut's cuboid robots might appear reminiscent of 90s N64 classic Space Station Silicon Valley, which is no coincidence considering Penn was integral to the creation of that game. Along with his partner Aaron Puzey, Penn also worked on the early Grand Theft Auto games.
A typical Autonauts session starts with the player crash landing on a procedurally generated landscape, after which they'll have to get to work chopping down trees and collecting resources until they have enough to construct their first (wind-up) Workerbot.
"We had a few people ask why we don't use this tech to build castles and have big battles, but we didn't want that."
The metal labourers are at the heart of Autonauts' gameplay, which is all about constructing efficient, automated work processes in order to please the baby-like colonists lounging around your spaceship.
Setting the automation of your Workerbots is as simple as showing them what to do; players can pop open a programming menu and click record, after which the Workerbot will turn your actions into a list of instructions; find the nearest stone and stick, take them to the work bench, create an axe etc.
By chaining up a number of different Workerbots, players can create construction lines; another Workerbot might take the axe and chop down trees, for example, with another collecting those resources and stockpiling them for future construction. If the original axe ever breaks, the first bot will automatically jump to action creating another.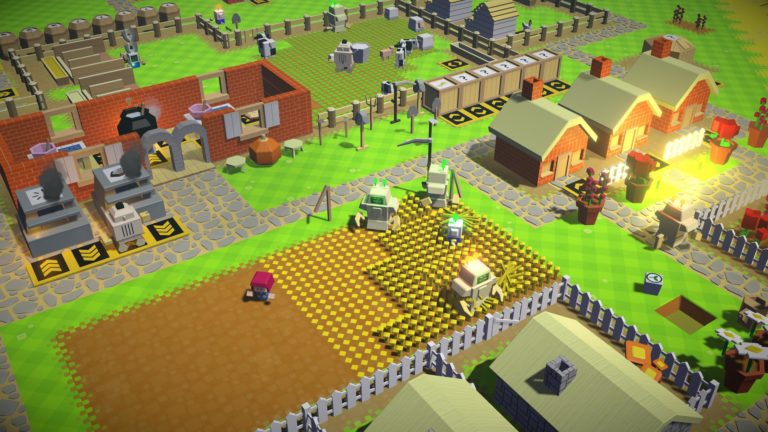 On the surface it's an incredibly simple and easy to use system, but a glimpse at the incredible, complex workforces of later stage games – when even the robots themselves are building other robots – shows why this game has already picked up an award from industry body TIGA for its educational merits.
At first the colonists will simply want to be fed, but eventually their demands will extend to other needs such as boredom, after which you'll have to create complex work floors which have your bots putting together toy horses to entertain them.
"In return for looking after your colonists, they give you love," Penn explains. "Love is the key currency in the game and without it you can't upgrade your technology and research tree. So as you progress you'll need to worry about things like giving them shelter or clothing in order to progress up the tech tree.
"Because after all, love makes the world go round." And Autonauts certainly has plenty of it.