God of War Ragnarök's first 5 hours suggest the sequel could be better in every way
Better combat, better looking and more expansive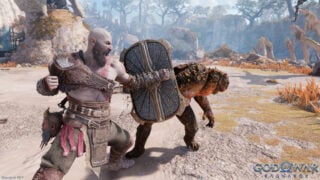 Boy no longer. Atreus is a man. That's the crux of the opening of God of War Ragnarok. As the almost permanent winter takes hold of Midgar, Kratos and Atreus are still deep in their training, with the young, naive and inexperienced half-giant gone, replaced with a much more experienced fighter.
Kratos, however, still isn't quite ready to see his heir in that way, instinctively offering to help young Kratos lift a deer carcass onto a stake for the pair's adorable wolves to chow down on. Like any parent, Kratos is finding it difficult to accept that Atreus, now significantly taller and with a much deeper voice, is well on his way to becoming the half-God he was born to be.
The first realm you travel to in the opening hours of Ragnarok, Svartalfheim, provides a glimpse at a world beyond the desolate wastes of Midgar. In the first game, despite travelling to plenty of unique locations, most of them felt like levels from a video game. Beautiful levels from a video game, but their entire existence was for Kratos to travel through them. Now, the world feels much more lived in.
God of War Ragnarok preview: The first five hours
As we arrive in town in Svartalfheim, Dwarves go fleeing in every direction, Odin having sent out a realm-wide mandate that Kratos is God-non-grata. This riverside town could be out of a Tolkein novel. As we float down the river towards our goal, hugely detailed houses, NPCs and streets pass us by. Mimir, the Basil Exposition of a talking head which still lingers on Kratos' hip, gives us some backstory about this world.
Under Odin's tyrannical reign, the Dwarves were forced to mine their natural resources, destroying their ecology, or face being wiped out entirely. A decision that Mimir himself consulted on when he was part of Odin's regime. This conversation opens a new side quest wherein we're tasked with shutting down three mines across the map. But before we do that, we have much taller business to attend to.
We're in Svartalfheim to find Tyr, the Norse God of War who's been missing, presumed dead, for some time. However, Atreus, in a quest to find his true purpose as Loki, has been sneaking off and returning to the shrines of the Gods found around the first game. However, now Atreus is able to walk through them, landing us in a world between worlds where Atreus explains to us that these carvings aren't a historical record, they're a spoiler. Kratos and Atreus are going to war, and they need help.
The Svartalfheim mines are a combination of puzzle-solving using the game's two main weapons, and combat encounters. The puzzles once again strike a good balance of challenging, but not frustrating, and the game does a good job at explaining what can and can't be interacted with, so you're not just throwing your axe across the room randomly.
Speaking of the axe, gaming's most satisfying weapon is back. Whether it's a consequence of the much-improved performance or the larger pool of moves, combat feels much better than the first game, especially when you compare what combat options you had at your disposal at this point in each journey.
In what is arguably the game's smartest decision, it doesn't strip players of the Blades of Chaos, offering a versatile combat suite from the beginning of the game. Obviously, the ridiculous top-tier armour and upgrades from the end of the first adventure disappear into the loft, but we're so happy there's not some contrivance to rob the player of both weapons.
"Whether it's a consequence of the much-improved performance or the larger pool of moves, combat feels much better than the first game, especially when you compare what combat options you had at your disposal at this point in each journey."
Another element that contributes to how much better the combat feels is the number and variety of enemies in the game. The conga line of Draguers from the first game is replaced by several different enemy factions, and more importantly, a bigger variety in enemy size.
Particularly in Svartalfheim, the game makes sure you're on your toes with small, scurrying enemies flanking you while you're trying to parry the larger humanoid threats. This can be overwhelming if you're not on your game, although Atreus being a much more central part of the combat experience eases this pressure, as it's not much easier to deploy him and combine your attacks with his arrow barrages.
Graphically, the game is just astonishing. Across the first five hours, we were blown away by the leap in visual quality here, and just how well the game performs. Ragnarok offers a few different visual settings, with a performance mode, and a resolution mode. Each of these modes can also be improved with a high frame rate mode, should you have a monitor or TV that supports it.

Thankfully we do, so we got to experience just how much of a game-changer that high frame rate mode is. On performance mode with high frame rate enabled, we were able to play the game consistently between 80-90 frames per second, providing an incredibly smooth experience, and contributing to the sense that this game really is a technical leap from its original.
Resolution mode is, obviously, stunning, but really the only thing you lose with our combo of performance and high frame rate are a few of the tiniest details.
God of War Ragnarok makes a wonderful impression from the very beginning then. There are literally more iconic moments in this game's first 60 minutes than most games get in their entire runtime, and really deserve to be experienced on the biggest screen you can possibly find.
So far, we're impressed with how much better the combat feels, and while we expected the game to perform well, the boosted framerate and level of detail make the PS5 version a huge step up from the original game. This is shaping up to be the PlayStation 5's defining game.
Related Products
Other Products
Some external links on this page are affiliate links, if you click on our affiliate links and make a purchase we might receive a commission.