Why 1993's Link's Awakening is still worth revisiting
The Game Boy Zelda remains a classic – and the Switch remake proves it
"I have no idea where this will lead us, but I have a definite feeling it will be a place both wonderful and strange."
These words, spoken by Agent Dale Cooper in David Lynch's fantastically surreal TV series Twin Peaks, are a perfect summary of The Legend of Zelda: Link's Awakening.
Released on Game Boy a couple of years after Twin Peaks ended, Link's Awakening shares some parallels with Lynch's show. Both see their protagonist end up in a small town, complete with mountains, sizeable forest and a beach.
Both stories start with a body being washed up on said beach – Laura Palmer and Link (though the latter is alive) – and both embroil their heroes in a deep mystery which engulfs the entire town and ultimately contains a shocking twist.
These similarities aren't coincidental: Nintendo's Takashi Tezuka has said he had Twin Peaks in mind while he directed Link's Awakening. It's a good job he did, because the result is one of the more unique, memorable Zelda games ever.
By the time Link made his handheld debut in 1993, fans had already worked their way through three other adventures in the series: the original Legend of Zelda and Zelda II on the NES, and A Link to the Past on SNES. As a result, a number of common elements and themes had already been established by this point, but these were about to be wrecked like a raft in a storm.

Link's Awakening defies these newly established conventions in numerous ways. The mystical Tri-force relic – which forms the basis for most of the series' mythology – is nowhere to be seen. Hyrule is no longer the setting, with Link instead exploring the idyllic Koholint Island. And despite still featuring in the title, Princess Zelda doesn't appear anywhere in the game beyond a short namecheck right at the start ("What? Zelda? No, my name's Marin").
It all combines to drive the point home to the player that these are no longer familiar surroundings. Koholint Island – this "place both wonderful and strange" – is completely new territory for not only the player but Link himself, and half the fun is in exploring it and interacting with the people living in it.
These townsfolk bring their own sense of surrealism to the adventure too, of course. NPCs in Zelda games aren't exactly the most straight-laced at the best of times, but Koholint's residents are particularly eccentric.
A good early example is Ulrira, an elderly man who uses the island's telephone network to enthusiastically drop you hints on what to do next, but is painfully shy when you visit his house and meet him face-to-face (and that's not to mention his excitable wife, the appropriately named Grandma Yahoo, who loves sweeping so much she breaks her broom).
"That such deep, emotional ethical themes could be found in a mainstream video game in 1993 was amazing. That they could be found on the humble Game Boy was a near miracle."
The more you explore, the odder things get. The constant recurrence of enemies from the Super Mario series continually reminds you that things are a little more offbeat than usual here. Chain Chomps are kept as pets, Goombas and Piranha Plants roam underground, and even Wart from Super Mario Bros 2 turns up at one point in a strange cameo.
Then there's the mysterious owl, who also appears from time to time to guide you on your quest (the first time this happens in a Zelda game). The owl is the one who happens to know how you can get off the island, and is ultimately the one who reveals the game's major twist to you. To quote another notable Twin Peaks legend: "The owls are not what they seem."

Without wishing to get into too much detail on that twist – after all, there are many players who are only just discovering the story for the first time on Switch – as interesting as it remains today, it was completely jaw-dropping back in 1993. The revelation answers a number of questions for the player, but also throws up so many new ones.
The rest of the game from that point takes a rather dark turn, where issues like existentialism and sacrifice start coming to the fore. There's a well-known philosophical problem called the 'trolley dilemma' – would you pull a lever to stop a train accidentally hitting five people if it meant you were deliberately letting it hit another person on a different track? – and it eventually becomes clear that the game is hurtling you towards a similar decision, while at the same time laying the guilt on thick.
"For the best evidence of how fantastically accomplished the game is, you only need to look as far as the recently released Switch remake."
That such deep, emotional ethical themes could be found in a mainstream video game in 1993 – the year that also brought us the likes of Mortal Kombat II and NBA Jam – was amazing. That they could be found on the humble Game Boy was a near miracle.
This modest little 8-bit handheld, with its green-and-yellow display and its 160×144 resolution, was now home to an adventure that felt less like the iconic but relatively basic NES Zelda games and far more like the 16-bit A Link to the Past on the SNES. The relative lack of power and colour were often considered an excuse for publishers to release less impressive games on the system, but Link's Awakening was proof that a full console-quality adventure – if not in terms of graphics, certainly in terms of plot and scale – was now possible on the move.
For the best evidence of how fantastically accomplished the game is, you only need to look as far as the recently released Switch remake. Obviously a number of elements are different: visually, it's night and day, the Switch is powerful enough to create the beautiful world that Game Boy players could only imagine in their heads as they play. With extra buttons available numerous items can now be stored at the same time too without having to keep going to a menu.

These changes are welcome, and help make the game feel more in line with other 2019 releases. What's most impressive, though, is that even though it's seen a visual upgrade and some control tweaks, the main game itself is virtually unchanged from that original Game Boy adventure released 26 years ago.
The plot is the same. The game map and layout are the same. The dungeons and secrets are the same. It's so faithful that you could probably take a walkthrough for the Game Boy version and use it to play through the Switch one.
It's the perfect testament to the Game Boy original that what was an incredible adventure more than a quarter of a century ago can be recreated beat for beat on the Switch and remain an incredible adventure today.
There are so many games from the early '90s that don't hold up to modern standards, but Link's Awakening was so beautifully made that whether you're playing it on Switch for the first time or digging out the Game Boy for another go at the original, exploring Koholint – that "place both wonderful and strange" – is still as engrossing as it ever was.
Related Products
Pokémon Scarlet and Violet Dual Pack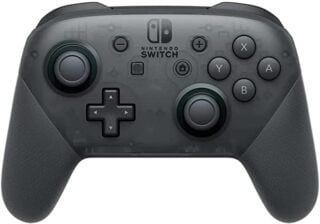 Nintendo Switch Wireless Pro Controller
Other Products
Some external links on this page are affiliate links, if you click on our affiliate links and make a purchase we might receive a commission.