First look: GTA producer's Everywhere could be enormous if it matches its ambition
The latest project by GTA producer Leslie Benzies also includes a secret AAA action game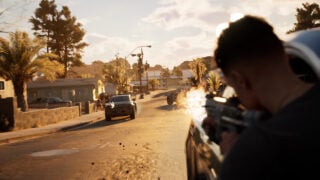 Often when I visit a studio I have a rough idea of the game I'm about to see, but Everywhere had me stumped.
After reports that Build A Rocket Boy – the new Scottish studio helmed by former Rockstar lead Leslie Benzies – was hiring for roles that could have been interpreted as being created with crypto in mind, I couldn't shake the suspicion that I was about to stumble into another 'metaverse' pitch, with helpings of blockchain and NFT thrown in.
While chatting with the handful of other press at the event, it was clear we were all anticipating the awkward possibility that we were about to have Benzies preaching to us about how NFTs are the future.
It seems BARB was anticipating the same concerns. When it opened its presentation with the statement that "we are not a blockchain game" and "we're not interested in Web 3 or crypto", the collective sigh of relief around the room was palpable.
With that fear well and truly quashed, we were able to concentrate on the game itself, and our other big question – exactly what is Everywhere? Turns out the short answer is a large online open world that focuses mainly on third-person action and racing but is also packing some serious creation tools, as well as one major surprise that dropped jaws around the room.
Our day at BARB was spent being shown numerous aspects of the game, focusing mainly on its central social hub Utropia. Looking a bit like a more navigable version of the Citadel in the first Mass Effect, Utropia is a futuristic-looking town area which is surrounded by a number of large biomes; grasslands, canyon, volcanic and the like.
Although BARB wasn't willing to share much about the biomes at this stage, it was explained to us that players would be able to head out into these areas (either alone or as part of a team) and take on a variety of challenges that would be regularly updated with new content.
At the start of the presentation we were informed that the studio was "making two AAA products, not one". After seeing the biomes and Utropia my interpretation of this was that it saw the biomes as one product (a game focusing on studio-created content) and Utropia as a separate product (focusing more on user-generated content). As it would later emerge, this interpretation was wrong.
For now though, the main focus was on Utropia and the four districts it currently boasts; the Combat District, the Racing District, the Entertainment District and The Collection.
The Combat District is where players can take part in third-person shooting action, similar to the sort of thing you'd see in Fortnite. The main angle, however, is that players can also use the game's extensive creation suite to create their own action stages, then share them with others to try them out.
To show the flexibility of the creation tools available, we were shown a stage created by one of the game's QA testers. Set in a water processing plant, the player had to make their way through the stage, gunning down enemies, while searching for several switches to hit.
Once they had all been activated, the stage filled with water, transforming the level. While brief, the demonstration showed that there's potential here for players to create a wide range of experiences.
Later in the day, we were shown the creation suite, ARC-adia, in action, and it looks flexible enough to be easy for complete amateurs to use, while also powerful enough for people who know their stuff to create some really complex things. For example, we were shown an octopus boss that had been created, with separate AI instructions assigned to each tentacle.
"Later in the day we were shown the creation suite, ARC-adia, in action, and it looks flexible enough to be easy for complete amateurs to use, while also powerful enough for people who know their stuff to create some really complex things."
If you don't have a creative bone in your body (like myself) the game's other main gimmick is the ability to share creations at any scale players wish. In the creation suite, players can group a number of objects together and save them as a 'stamp', then upload them to a Stamp Shop where other players can acquire them for their own creations.
As it was described to us, stamps can be as small as single objects made out of a couple of shapes – if you're particularly proud of a tree you made, you can share it with the world – to as large as entire stages, uploaded for players to deconstruct and tinker around with to make their own remixes or use them as foundations for something completely different.
We were then shown the Racing District, which essentially does the same sort of thing but with racing gameplay instead of third-person action. Players can create their own circuits and share them online, while a variety of cars, car parts and skins should ensure a wide variety of vehicular options are available.
The idea is that players will not only be able to browse the Combat and Racing Districts for new experiences, but that BARB will also highlight the best of these and showcase them in the District to ensure the cream rises to the top. "We want to make players famous," we were told.

Of course, BARB is no collective slouch when it comes to making its own experiences, as we were about to discover.
After briefly showing us The Collection, a district that focuses around player-created content and lets players find and share new creations, we were taken to the Entertainment District, where the scale of Everywhere was suddenly redefined and we were about to discover what "we are making two AAA products" actually meant.
The Entertainment District contains a number of smaller rooms – there's a door leading to a cinema room, one leading to what appeared to be a DJ area, and an interesting-looking Art Gallery section that leads to a genuinely beautiful museum area showing concept art (this section will be "ever-evolving" and will contain some secrets – "we want to have fun with it", we were told).
One door, however, was simply labelled Game Lobby. Upon entering it, we were shown a cinema screen, which then ran this:
To recap, for those not familiar with BARB studio head Leslie Benzies, this is the man who spearheaded the 3D era of Grand Theft Auto games, and produced GTA III, Vice City, San Andreas and GTA IV, and co-produced and co-designed GTA V.
Now here we were, being shown an entirely new game called MindsEye, with realistic art design and a section that looks very much like Grand Theft Auto, being directed by the man who produced every major 3D GTA game.
To be clear, then – or as clear as it was explained to us – MindsEye is a separate AAA game that will only be available in Everywhere. After further grilling, we were told that the plan is to release it in different themed chapters – the first would focus on single-player gameplay, the second may be more multiplayer-focused.
What's more, as each new chapter of MindsEye is released, the assets will be made available for players to incorporate in their own creations in Everywhere. Quite how this is going to be possible given the two different art styles remains to be seen, but the claim alone is an enormous one if it pays off.

Ultimately, this was the overall takeaway from my entire day at Build a Rocket Boy. Everything I saw suggested there's an enormous scale to all aspects of what's in development here. A chat with the cinematic artists suggested that MindsEye won't just be a couple of hours long, but a fully-fledged, "proper length" adventure. The art team showed us an enormous image with countless character outfits and vehicle skins planned for launch, with the plan being to continue to add to them over the coming years.
The scale extends to the audio too – a trip to the sound department led to a demonstration of the game's ray-traced audio, where the way environmental ambience and effects sound to the player is generated on the fly depending on where they are and what's in the way of the sound waves. Given that much of the game is about players making their own environments, this should result in sound being filtered in a realistic manner no matter what they construct.
The game's music selection also promises to be vast – the audio team was tight-lipped on what exactly this means, but it appears there will be some licensed tracks as well as some entirely new soundscapes created especially for the game. We were allowed to hear some of this new music, which had apparently been composed by a well-known name. The team did a diligent job of refusing to reveal who it is but the brilliant retro synth music had me thinking that if it isn't one of the members of CHVRCHES it's very much of that style.
If it all comes together like it's supposed to, then, Everywhere absolutely has the potential to have a degree of success that matches the enormity of its ambition. While BARB may baulk at the comparison, if the core third-person and racing gameplay is solid enough and the creation tools are as user-friendly as they appear to be, this could become a more accomplished take on Roblox that appeals to an even wider audience (and not just an older one – the team deliberately replaced ballistics with energy shots to make sure it's suitable for younger players too).

Some questions still remain, most notably when it comes to monetisation. We were informed that the game will be both Premium and Free-to-Play but it wasn't made clear how this would be implemented. We spotted numerous currencies in the game menu. It appears that playing through the game and its user-created experiences normally earns the same currency that can be used to unlock 'stamps', those player-created objects and environments.
We've also been told that players won't be able to buy enhancements for their character, and that paying for cosmetic items like outfits or vehicle liveries is perhaps more likely. "We're fundamentally opposed to pay to win," Benzies told us, "but pay to look cool is probably more like it."
It feels like the studio could get away with charging for each chapter of MindsEye – given that it can make a legitimate claim to being the next narrative adventure directed by one of the key names behind the Grand Theft Auto series, it seems clear that there's money to be made there.
"It feels like the studio could get away with charging for each chapter of MindsEye – given that it can make a legitimate claim to being the next narrative adventure directed by one of the key names behind the Grand Theft Auto series, it seems clear that there's money to be made there."
It's where the other monetisation appears that could determine how popular the game ends up being, especially now that we know the contentious issue of NFTs is completely off the table ("we just don't need them," we were later told by CDO Mick Hocking, himself a former studio director at Evolution and SCE Liverpool and former vice president of SCE Europe).
It also remains to be seen if BARB plans to allow more experienced creators to sell their items through the game. Epic just announced creation tools for Fortnite and is giving creators a 40% cut of sales, meaning those who are particularly skilled at coming up with new objects and stages may decide to take their talents somewhere they can actually make a profit.
For now, I'm optimistic. Considering that the day started with fears that we were going to be subjected to a sermon about why NFTs are the future of gaming, and ended with us fully briefed on not one, but two AAA titles with a level of ambition that could take Everywhere to the moon if handled properly, it's exciting to think that if Build a Rocket Boy can pull this off we could be looking at the start of another enormous IP (and another one in Scotland, if I'm being selfish).
It's a big ask, but given the team is being led by a man whose last project currently has 175 million sales to its name, would you bet against it?
Related Products
Other Products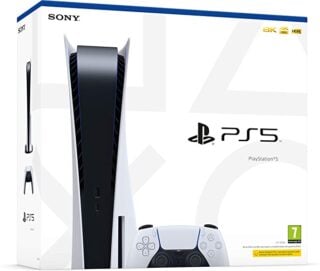 PlayStation 5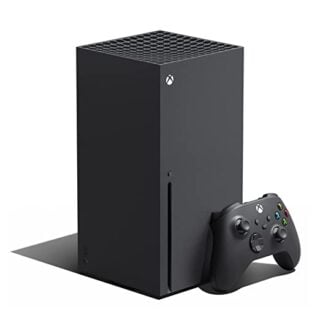 Xbox Series X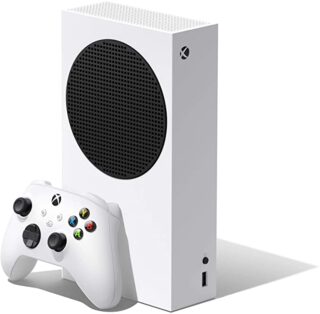 Xbox Series S
Some external links on this page are affiliate links, if you click on our affiliate links and make a purchase we might receive a commission.