First look: Far Cry 6's most important feature is the ability to put away your gun
Guerrilla warfare and bonkers weaponry comes to Ubisoft's latest sandbox blockbuster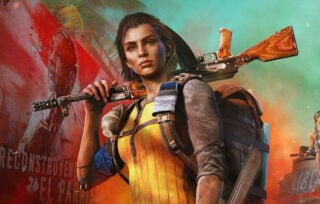 Last year Ubisoft offered the first glimpse at Far Cry 6 and promised its biggest, most ambitious instalment yet, with a more cinematic narrative led by Breaking Bad's Giancarlo Esposito.
Far Cry games have always been about stunning exotic locations under tyrannic rule – in this case, the fictional Caribbean island of Yara and Esposito's El Presidente Anton Castillo – but only now do we know what that means in gameplay terms; an entire country to explore, bonkers weapons such as a CD launcher, a crocodile for a companion and for the first time in the series, the ability to put away your gun and mix with the natives.
With the two opposing forces of Far Cry 5's stellar sales and Ubisoft's mission to make its open-world game more unique, we did wonder how brave it would be with the series' next instalment. And while our first look at real gameplay suggests evolution more than revolution, the features it's introduced sound like meaningful steps forward for the series.
"This time around for me it was more a question of how we embrace the legacy that we have and still make this feel like an evolution," lead gameplay designer David Grivel told VGC. "The approach we settled on is what we call 'resolver', which is that do-it-yourself philosophy, and it really helped us create quite a few new features and systems based on this.
"You can see it in the weapons and vehicles, for example. It was a great way for us to not only fit that island that is frozen in time where people don't have a lot of means, so they have to make do with whatever they can find, but it also translates to gameplay."
Like much of Far Cry 6, the 'Resolver' spirit – which literally means "to resolve" – is inspired by the island of Cuba and its knack of using whatever little resources it has to solve a problem.
In Far Cry 6, it translates to the bonkers arsenal of weapons, which are cobbled together with household items like a nail gun or a CD-R launcher, the new 'Supremo' backpacks which offer carriable homing missiles, as well as the new Guerilla Rides feature which allows players to customise their own vehicle and have it delivered to them around the island.
And what a looker the island is: Yara is the largest environment in Far Cry history, encompassing an entire country's worth of biomes into a single FPS sandbox. There's a large urban city called Esperanza, lush jungles and shorelines, busy docks, guerrilla camps, oil rigs and sleepy villages.
Purely from a variety and visual perspective, it looks like Yara is going to be a joy to explore. And thankfully, developer Ubisoft Toronto appears to have invested in adding an equal amount of variety to the gameplay too. Players can participate in activities such as fishing, dominoes or hunting, while its staple outposts have been expanded into three varieties; bases, checkpoints and flak cannons.
Grivel said Far Cry 6's commitment to diversity extends to the bases themselves: "We implemented them in such a way that there is a meaning to the infrastructure. It's not like, 'ah, there are ten camps in the forest, and they all look the same.'
"Purely from a variety and visual perspective, it looks like Yara is going to be a joy to explore. And thankfully, developer Ubisoft Toronto appears to have invested in adding an equal amount of variety to the gameplay too."
"Some might be about a sawmill, some might be about a port, some might be about something else, and it's not just a theme on top of it, it also affects how players approach it because say if now the outpost is more inside of a building, sniper players will have to adapt to this situation."
He added: "But also, the other ones that you mentioned like the new Flak Cannons, this is interesting to me because previously I was the kind of player who would grab a helicopter and fly directly across the land just like that. And I would never encounter any pushback from the world… it was like the world was on the ground and that's it.
"This time around we don't want to prevent players from flying. On the contrary, we have a lot of helicopters and planes and all that, but we wanted also to show that you're in a country that's under military control. They control the roads, but they control the sea and air as well."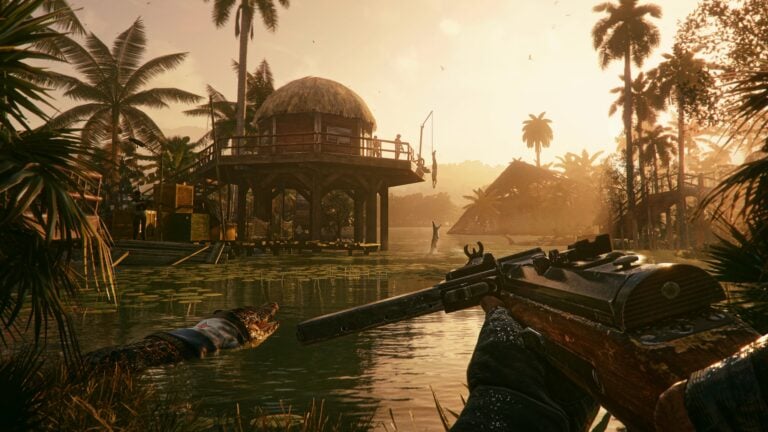 This brings us to arguably the most compelling – if a little dull on paper – addition: the ability to put your gun away and mix with the normal people.
"It's one of the things I really pushed for because as you know, in previous Far Cry games you were always the center of attention, like enemies knew who you were and they knew kind of almost where you were all the time," Grivel explained. "So, it was difficult for you to just blend in and for us, because we were building a game based on modern guerrillas, it was important to be able to pass as a civilian."
The ability to holster your weapon adds two things to Far Cry that weren't possible before: one, you can explore the world, go fishing and gawp at the gorgeous vistas without any kind of combat interrupting you – an appealing prospect given that Yara looks set to be a stunning place to traverse. Secondly, the player – and not the game – decides when the combat encounters start, allowing you to ambush and be a true guerrilla.
"For example, if I was driving a car, I could holster my gun and drive up to a military truck and wait until I was right next to it before I pull out the gun, shoot the driver and hijack the truck in one go," Grivel said. "That kind of thing was just not an option previously and I think it sounds like a small detail, just holstering a gun, but it really opens a whole new dimension of interaction."
Far Cry 6 is out on October 7, 2021 for consoles, PC and streaming platforms.
Related Products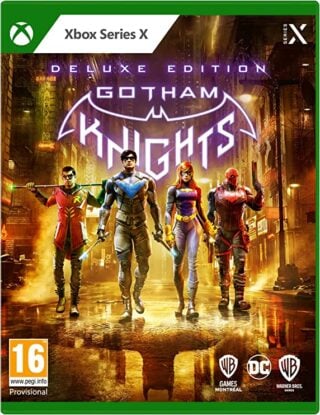 Gotham Knights - Deluxe Edition (Xbox Series X|S)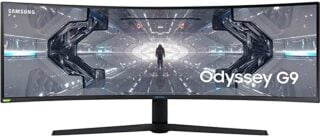 SAMSUNG 49-inch Odyssey G9 Gaming Monitor
Other Products
Some external links on this page are affiliate links, if you click on our affiliate links and make a purchase we might receive a commission.