Fear not, Arkane fans: Redfall is a utterly engrossing single-player experience
While fans may be disappointed at its less system-driven approach, Redfall is shaping up to be the studio's strongest shooter to date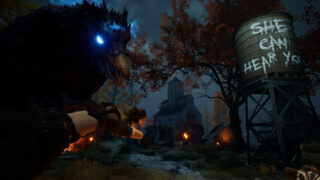 When Redfall was first unveiled, it seemed as though the internet responded with a collective shrug. As the new creation from immersive sim maestros Arkane, expectations were understandably high – yet to many players' disappointment, it looked like the Dishonored creator had abandoned its RPG roots for Left 4 Dead-esque co-op shenanigans.
It turns out though, Arkane devotees needn't have worried. After spending two hours exploring the gloomy streets of a vampire-infested Massachusetts, I'm happy to say that Redfall is an utterly engrossing and atmospheric shooter.
(Thankfully, the developer also appears to be "working actively" to remove the game's always-online requirement when playing in single-player mode.)
As I was chucked into my solo slice of Redfall, I was pleasantly surprised with just how competently its blend of guns and ghouls holds up as a single-player experience. It helps, of course, that the minute-to-minute gunplay is phenomenal. While Arkane's no stranger to firearms, it's never been an area where this developer has really excelled.
From Prey to last year's Deathloop, the studio's approach to guns has always felt a bit like an afterthought – a perfunctory RPG tool rather than a genuinely tactile-feeling mechanic. There are no such complaints to be levelled at Redfall. Here the simple act of shooting is endlessly satisfying. Pistol rounds pop with a pleasing thud, shotgun blasts ring out like a death knell – the core combat just feels good.
It reminds me a little of the instant serotonin release that comes with firing a weapon in Destiny 2, and I quickly go out of my way to look for trouble in Redfall, toying with my enemies and luring mobs of monsters into the open as I take on the horde. Still, this is an Arkane game after all – so it's not just guns that you have at your disposal.
Put in the shoes of one of four different vampire slayers – Layla Ellison, Devinder Crousley, Remi de la Rosa, and Jacob Boyer – each offer players a unique toolset to help them vanquish the undead.
Feeling patriotic, I chuck my lot in with the lone Brit – an aspiring inventor and paranormal phenomena nerd, Dev Crousley. Armed with a particularly sticky-looking stick named an Arc Javelin and A UV emitter that petrifies enemies, Dev's AOE attack devices certainly did the job, even if his tools weren't particularly exciting to use.
As I watch other journalists roam around Redfall armed with invisibility cloaks, telekinesis abilities, and another flanked by a psychic raven, I can't help but think I chose the dud. Still, my boy Dev comes armed with a stake launcher at least: which I soon discover is an immensely satisfying blend of sniper rifle and harpoon gun. It's a slow-to-reload but hugely enjoyable weapon to yield, and one that makes short work of both dead and undead alike.
In an interesting twist, playing solo doesn't attempt to replicate the co-op experience by weighing you down with three hapless AI, instead, Redfall simply leaves you to embark on a different and altogether lonelier-feeling adventure. It's a smart design decision, and one that helps bring to life one of Redfall's unlikelier inspirations.
Before we're sent headfirst into the vampire-ridden town of Redfall, game director Harvey Smith explains that his main influence for this undead annihilator was Far Cry 2, citing the 2008 FPS' blend of tense open-world exploration and systems-driven gameplay as a key reference point for Redfall's development.
"Game director Harvey Smith explains that his main influence for this undead annihilator was Far Cry 2, citing the 2008 FPS' blend of tense open-world exploration and systems-driven gameplay as a key reference point"
It's an influence that immediately rings true, with my eerie explorations of this deeply cursed Massachusetts town feeling more akin to a chewy single-player offering than a looter shooter. As you roam the dimly lit streets in a perpetual twilight, the map is yours to approach as you see fit. Fancy following the main quest line and uncovering the mysteries behind the outbreak? Go for it. Feel like crossing the river instead and heading down to the derelict docks to grab gear? Knock yourself out.
As you wander through a lavishly rendered abandoned art deco movie theatre, hints of Arkane's past work shine through. Each individual house you break into is intricately rendered, littered with the kind of authentic human touches that offer the kind of environmental storytelling that you'd expect from a traditional single-player Arkane outing.
While you have a main story to follow, most of the wider context comes in the form of environmental storytelling and letters you find strewn next to hastily abandoned buildings or lodged in the pocks of the corpses of what came before.

As well as the ravenous undead, a large faction of deranged cultists had opted to abandon reason and basic human decency, devoting their lives instead to helping ravenous ghouls suck the world dry as they look after their own selfish interests. Not much different from our world at the moment, then. These armoured simps often congregate around a vampire they are worshipping, attacking you with everything from make-shift weapons to military-grade firearms, leading to some interesting mix ups in battle.
True to the original myths, your bullets don't kill vampires. While unloading a full clip into a demon of the night will stun them and get their health bar down to zero, you'll need a UV weapon or a stake through the heart in order to vanquish them fully.
Thanks to Redfall's constant mix of human and fanged foes, you'll want your three main equipped weapons to cover all the bases. The UV powered ones, for example, are incredibly handy for incinerating the Edward Cullens of this world, petrifying them and allowing you to shatter their stone-like husk with a melee attack – but are only really effective for giving the cultists a bit of a tan.
"True to the original myths, your bullets don't kill vampires… you'll need a UV weapon or a stake through the heart in order to vanquish them fully."
Still, in a post-apocalyptic vampire-ridden hell hole, you take whatever equipment you can salvage. As part of the dwindling human resistance, you and the remaining survivors have set up base in Redfall's fire station. Here you'll find quest givers, shopkeepers, and all manner of colourful characters.
While you have your main story objectives to follow, each time you venture out of the confines of the secured fire station, you'll want to bring back gear, rescue captive survivors and track down resources that help strengthen your crew's position.
After spending most of my time in Redfall quietly skulking around the dimly lit streets, the climax of my demo saw me dive into the meat of Redfall's story. Diving into the backstory of a scheming Doctor, this infiltration mission sees you learn more about Aevum Therapeutics, a sinister medical corporation who's treatments turned this once quiet island into a demonic playground. Tasked with infiltrating a heavily guarded mansion, you'll have a multitude of ways to approach this highly fortified abode, with various points of entry to the vast and creepy-looking compound.

As I make my way across the heavily-guarded grounds, I make my way into the house. Sneaking and staking my way across the mansion's marble-floored kitchen to a deeply cursed-looking greenhouse, I soon discover a series of dolls that are intertwined with the demonic manifestations of horrific memories. Inside you uncover unsettling story snippets told via Everybody's Gone To The Rapture-inspired ethereal visions.
These flashbacks reveal that the demented doctor experimented on his daughter with untested medicines in an attempt to heal their long-term health problems. Predictably, pumping a little girl filled with weird chemicals doesn't end well, with the unhinged doctor taking the experiments too far and accidentally killing his daughter. It's all competently told stuff, and hints that the resulting experiments ultimately led to the vampire outbreak that plagues Redfall's streets.
Before I dove into my demo, Harvey Smith assured me that Redfall stands on its own two feet as an enjoyable solo experience. It's a claim I've heard countless times from developers espousing the single-player joys of their co-op capers, but for its first few hours at least, it's a promise that Redfall delivers.
While hardcore fans may be a little disappointed at its less system-driven approach, Redfall is shaping up to be the studio's strongest shooter to date. Melding the studio's attention to detail with guns that pack a punch feels like a recipe for the cult curio developer to have a long-awaited commercial success.
Thanks to its quiet hum of foreboding and its carefully constructed environments, I can't wait to return to this hellscape of an island. Only on my next trip to the cursed town of Redfall, I'll be ready to take on its horrors with three friends in tow.
Related Products
Some external links on this page are affiliate links, if you click on our affiliate links and make a purchase we might receive a commission.