Doom Eternal is anything but a 'dumb shooter'
Hands-on report and exclusive video from Id's big sequel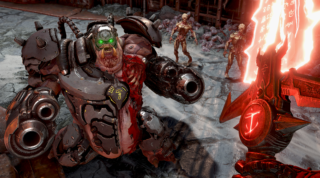 Nuance and complexity are not something you would have historically associated with Doom, but 2016's slick, pulse-raising reboot put a bloodied boot to any suggestion the FPS forefather would forever be known as a 'dumb shooter'.
Id Software exec producer Marty Stratton told assembled press in London this month that he hopes the sequel, Doom Eternal, kills that reputation stone dead – and stomps its head into a meaty mush just to make sure.
"There's maybe a perception out there that Doom is a mindless corridor shooter," he said. "Sure, we have great guns, great gore and rocking music, but that 'mindless' part is something that we have wanted to get away from. That's not the game that we made at all."
Anyone who played 2016's sublime reinvention will know what Marty is referring to. On the surface the reboot had all the flashy guns and fancy engine features that defined past entries, but at its core is a masterfully crafted combat loop: an R-rated ballet of head-stomps and shotgun blasts that demands skill, reflexes and puzzle solving from its players.
Demon battles pit players against not one or two, but tens of enemies who will quickly make mincemeat of you if approached without skill or strategy. Ammunition and health are limited, just like the old games – but that's where the similarity ends. The protagonist is the predator of this game world, and resources must be earned by chaining together ever more stylish and varied executions.
Doom Eternal presents combat as a puzzle and players must utilise the many tools at their disposal to solve it. Set enemies alight with the shoulder-mounter flame thrower to collect armour. Chainsaw them for ammo. Lob a grenade at a slack-jawed Cacodemon to stun it, then follow up with a devastating melee Glory Kill to replenish your health.
"Doom Eternal encourages a flow of combo-and-counter gameplay not unlike a deep fighting game. Among the chaos and castration, players eventually enter a zen-like trance as they chain together complimentary moves."
Doom Eternal encourages a flow of combo-and-counter gameplay not unlike a deep fighting game. Among the chaos and castration, players eventually enter a zen-like trance as they chain together complimentary moves. You'll launch into the air, slow-mo snipe opponents mid-leap, then shotgun two more before bludgeoning a poor critter to death with his own limbs. It's incredibly satisfying to play and likely just as entertaining to watch.
Learning to balance every ability can be overwhelming at first, leaving you embarrassingly short of ammo and armour at the jaws of a braying hell monster, but thankfully the single-player campaign seems well paced enough to explain its tricks.
"It's about double the size of Doom 2016," Stratton says. "It's the most epic and best thing that we've ever created at the studio. Our levels are bigger than they've ever been, we have double the amount of demons and from beginning to end you're going to experience things that are always new.
"I refer to this as sort of the game version of a 'page-turner'… even down to the last boss fight, you're going to see things that you hadn't up to that point."
Indeed, there is plenty of variety on show in the game's first missions. Exhausting combat set-pieces are balanced by first-person platforming, which has players dashing and clambering up the sides of epic future Earth scenery.
There's also the occasional downtime in each mission, when the discovery of upgrade stations allows players to strategise secondary abilities for their weapons, or new suit powers such as the ability to slow time whilst aiming in mid-air.
Like 2016's game, there's also a narrative to dig into for those interested. Codex entries are scattered throughout each level, explaining the origins of guns, enemies and more, which Id feels is important for building a tangible universe for the new Doom.
"Doom is never really about story – it's about combat first and foremost – but if you played Doom 2016 you'll know that we really started to build a universe with that game," Stratton explains.
"People dove into the Codex, they listened to the Slayer Testaments… you really learned a lot about the origin of the Slayer, where he came from and what the UAC is all about.
"We asked a lot of questions with the last game and now we answer some of them. But we're also trying to plant a bunch of more seeds and build a universe. We often give players the 'A' and the 'C' and then let them decide what 'B' is."
Special 'empowered' Demons that show up occasionally during the campaign are a new addition. They're made stronger by the fact they've defeated another player in their own single-player battle, and that player's tag appears above the demon's head to name and shame them. If you can defeat them your reward is a whole bundle of loot. It's a novel twist to online integration, mirroring Eternal's own unique take on multiplayer.
Id hopes players will agree that Doom Eternal is both fun on the outside and smart on the inside.
In its opening hours Eternal is definitely a treat to play. Visually, it's spectacular running on a high-end PC and Stratton claims console players are in for "a real treat."
"This game is, I think, the best technology we've ever made," he said. "We're at the end of a hardware cycle where engine teams really understand the hardware and are getting the most out of it. We've increased graphics fidelity, polygon count… everything is pushed in this game and it still runs on all the consoles that Doom 2016 ran on.
"It's fantastic. I can't tell you enough about how good it looks on PS4 and Xbox. If you play on consoles you've got something really special to look forward to."
Related Products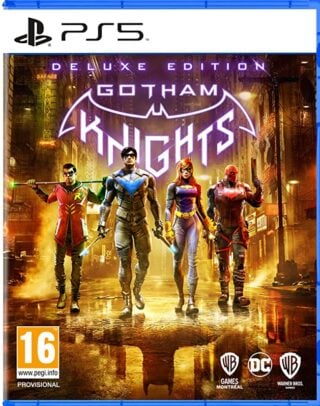 Gotham Knights - Deluxe Edition (PS5)
Other Products
Some external links on this page are affiliate links, if you click on our affiliate links and make a purchase we might receive a commission.