BitSummit day one: Hands-on at Japan's leading indie festival
We give our first set of impressions on a selection of new and upcoming indie games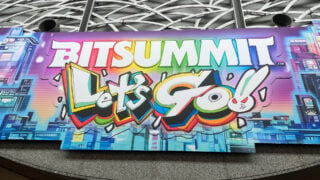 The first day of BitSummit is over, so here's our highlights of what we've played so far.
If you aren't familiar with it, BitSummit is Japan's leading independent games development expo.
Held in Kyoto each year, the event showcases indie games from Japan and the rest of the world, and this year more than 90 indie titles are available to play.
We've spent the first day taking part in interviews with developers (which you can expect on VGC in the coming days and weeks) and walking round the show floor, playing the demos on offer.
Here's our hands-on impressions of some of the more interesting titles we've come across.
---
Paper Trail
This was the first game we played on the day, and while Steam demos have been present at other shows we were informed that this was the first time the console version was available to play (we played it at the PlayStation booth).
If you're unfamiliar with it, Paper Trail is a puzzle adventure where you play as Paige, who leaves home to start university and finds all manner of strange situations blocking her path.
The gimmick here is that the world is made of individual screens, each of which is made of pieces of paper joined together.
Each piece has two different sides, with a different path layout on each. By moving a cursor with the right stick and holding the R2 button, players can grab the edge of a piece of paper and fold it over, replacing the stage with what's on the other side.
It's a clever mechanic and a pretty difficult one to get your head around – it feels like a period of trial and error is needed sometimes before the solution falls into place. Still, when it all finally clicks and you figure out what to do it's extremely satisfying, and we were told that there may be a hint system put in place before release, which would be extremely helpful.
---
Umamusume Pretty Derby: Party Dash
Umamusume is a manga, anime and video game franchise about a world where famous race horses are reincarnated as 'horse girls', which are basically idol girls with big ears and a tail.
There was already an Umamusume game on mobile, but this one is set to be released on PS4, Switch and Steam in 2024.
It's a multiplayer game consisting of four different events, and the one we played was called Hurtling Hurdles.

We took part in a four-player contest, which was essentially a side-scrolling racing game where the aim is not to finish first, but to have the most points after a running through a number of checkpointed sections.
Because they're people (well, horse people) instead of animals, the players' characters can do things like climb walls to reach different routes or collect items that can either improve their abilities or hinder opponents.
In other words, it's a karting game if it was side-on instead and had horse girls in it. We really enjoyed what we played, though a western release feels unlikely.
---
Fishbowl
The personal nature of indie development means we'll almost certainly start seeing a bunch of pandemic-themed games popping up in the coming months and years.
Fishbowl is one of the first we've played, and from the brief 10-minute prologue we tried it's clear that it handles the subject in a personal but sensitive way.

Developed by two-person Indian studio imissmyfriends.studio, Fishbowl tells the story of Alo, a girl who finds she has to spend the next month at home.
As short as the section we played was, it was quite varied too. We had a dialogue tree conversation with Alo's mum and a work colleague, we played a short video editing mini-game, we did a little inventory-shuffling puzzle, we had a pretty sad dream sequence about Alo's recently deceased grandmother then we had an odd moment where a long-forgotten childhood pet came to life to help Alo remember happier times.
We're very curious to see where Fishbowl goes from this prologue, so expect to see more coverage on VGC when it's nearer to release.
---
Shanghai Legend
If you're familiar with Shanghai you'll likely know it better as Mahjong Solitaire – Shanghai is the trademarked name of the version that saw numerous versions released by Activision in the 80s and 90s and published in Japan by Sunsoft.
Now that Sunsoft is back, so too is Shanghai, and anyone familiar with the game should know exactly what to expect here.
If you aren't, it's actually easier to play than it may look. The object is to clear the board by removing two matching tiles at a time, but you can only remove them if one of their vertical sides isn't touching anything – in other words, so they can be slid out without disrupting any other tile.
The trick comes in the layouts, with some tiles trapped underneath others, meaning each stage has to be handled strategically so you don't end up stuck with a handful of immovable tiles later and get game over.
We're long-time fans of Shanghai, and Shanghai Legends looks to be a faithful recreation, even if it isn't exactly pushing the Switch to its limits.
---
Hebereke 2
The original Hebereke was known in the west as Ufouria: The Saga, and was a brilliant NES platformer starring Sunsoft's former mascot Hebe, a small albino penguin.
Given that the game is more than 30 years old, this sequel is a little unexpected, but it looks wonderful.

It uses a similar art style to other 'handcrafted' platformers like Yoshi's Woolly World and LittleBigPlanet, and is designed to look like the characters and locations were crafted by someone.
Our favourite touch is the dialogue boxes, which appear on little speech bubbles made out of Hama beads.
We only spent 10 minutes with Hebereke 2 but we liked what we saw. If this is an indication of the level of quality we can expect from the resurrected Sunsoft, we say welcome back.
---
Guardian of the Crossroads
This simple game comes from the Game Creator Department of Nihon Kogakuin College in Tokyo, and we had a fun time with it.
The idea is that you're in charge of a lane of cars approaching a junction. Some cars want to go straight at the junction and others want to turn right.
You simply have to press up or right on the keyboard to make the car go through the junction when you want it to – what makes this difficult is the opposite lane of traffic.

You can't just make a car turn right because it might hit an oncoming car speeding in the other direction, and you can't just make a car go straight ahead because there are other cars turning who could cut you off.
The whole thing's timing-based, and you can build a combo if you get a bunch of cars through fairly quickly without causing any crashes.
It's simple and it's fun, and while it may never see release outside of Japan (or even at all), it's a nice reminder that there's always a new generation of developers working on their craft.
---
Moons of Darsalon
Not every game at BitSummit is unreleased – you sometimes get titles that were released recently and are included as part of a publisher's booth showing all their recent and upcoming titles.
One example of this is Moons of Darsalon, which was released earlier this year and is now being handled by Astrolabe Games, a new publisher based in Toronto and Tokyo.
If you haven't come across it yet, it's a retro-inspired platformer where the aim is to get groups of spacemen to their base by guiding them with vocal instructions.
It's a bit like Oddworld: Abe's Oddysee if it was faster paced and had more dialogue (the characters have little speech bubbles so they can give you feedback and general chit-chat).
The game's out now and there's currently a demo available on the game's Steam page if you want to try it out.
---
Hook & Kaiju
Another one that's already out, Hook & Kaiju is perhaps less likely to have been on your radar because it hasn't been released in English yet.
It doesn't really require it though, and we had a blast with it. Players control an airship with a large hook on the end of it. You can raise and lower the hook, and use a boost to speed up for a brief period.

You have to protect your tower from a series of huge armoured monsters. You do this by studying their movement, attaching your hook to them and using the boost to gain enough momentum to pull them to the ground.
It's massively satisfying and we had a great time cheering away with the BitSummit staff assistant as we grabbed a big kaiju by the back of the neck and yanked it off its feet.
It's currently free on Steam, and though it warns you that it's only available in Japanese, there's no real language barrier.
---
Nyaaaanvy
This quirky multiplayer game is a physics-based sumo style game where the aim is to knock all your opponents off the course.
Each player controls a comically long cat, so while half the work involves attacking the other cats and bumping them off the edge, the other half involves actually being able to control your cat in the first place.

We played it solo, where you face off against a bunch of bots, and it was good fun but was pretty easy (which is often the case with demos, to be fair).
It's clear that this is a game mainly designed for multiplayer – the online supports up to six players at a time – and we can imagine it being carnage if everyone has a similar skill level.
Nyaaaanvy is currently available on Steam in Early Access, with a final release date to be confirmed.
---
We'll have more indie coverage from BitSummit following day two and three of the event.
Related Products
Other Products
Some external links on this page are affiliate links, if you click on our affiliate links and make a purchase we might receive a commission.