The best fitness and exercise games available now
Stay in shape and get healthy with these keep-fit video games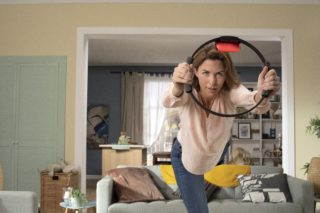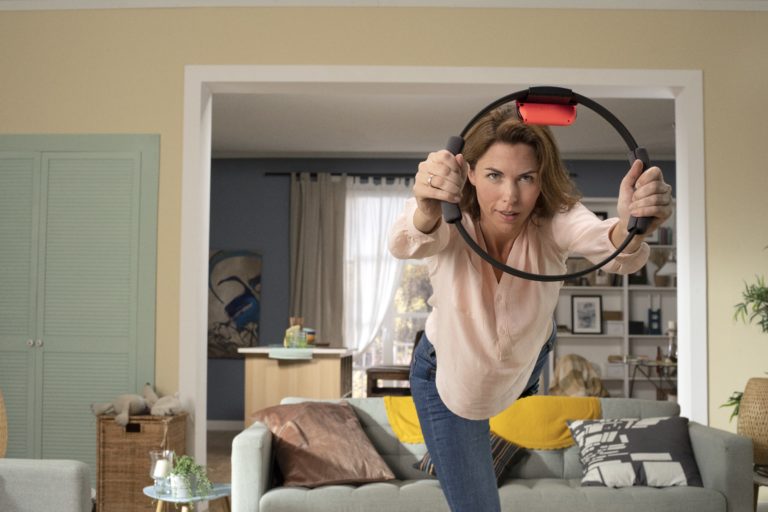 There comes a time in many of our lives where we realise we could stand to get a little fitter, and in this article we'll show you the best fitness and exercise games to help out.
Whether the aim is to lose a few pounds or simply feel a little healthier in general, there's always a benefit in doing more exercise.
For some, however, exercising can be a repetitive, boring affair, which is where fitness and exercise games come in. But which are the best fitness games available in 2022?
While none of these will ever be an adequate replacement for a proper gym, they'll at least help you build up a sweat and get your heart racing more than simply sitting on the couch playing Balan Wonderworld will accomplish.
With that in mind, we've put together this list of our favourite fitness games across all formats. If you're looking for a way to get fitter and have fun while doing it, these should be your first ports of call.
---
Nintendo is certainly no stranger to fitness video games – indeed, it was the release of Wii Fit (which was nearly 15 years ago, depressingly) which kickstarted the entire fitness video game craze in the first place.
Although Wii Fit sold over 22 million copies, Nintendo decided not to bring it to the Switch, meaning any dreams of a fancy new Balance Board peripheral are gone.
It could be argued, though, that Ring Fit Adventure is even better, certainly in terms of appealing to a core video game playing audience.
The Ring-Con peripheral gives players a degree of resistance, which helps increase the efficiency and effectiveness of their exercises.
From a video games point of view, however, the most important thing about it is that it's just fun to play.
Running through each environment and performing exercises to execute attacks in turn-based battles keeps the player engaged and encourages them to come back for more, which is one of the biggest issues fitness games face.
---
Best fitness games: Fitness Boxing 2
If you want to keep fit on your Switch but maybe aren't so keen on the idea of getting out a big rubber ring and slotting Joy-Cons into it every time you want to work out, then Fitness Boxing 2 may be a more suitable alternative.
As the title suggests, the game focuses more on boxing-based fitness, giving players a variety of punches to learn and practice, which are then linked together to create workouts.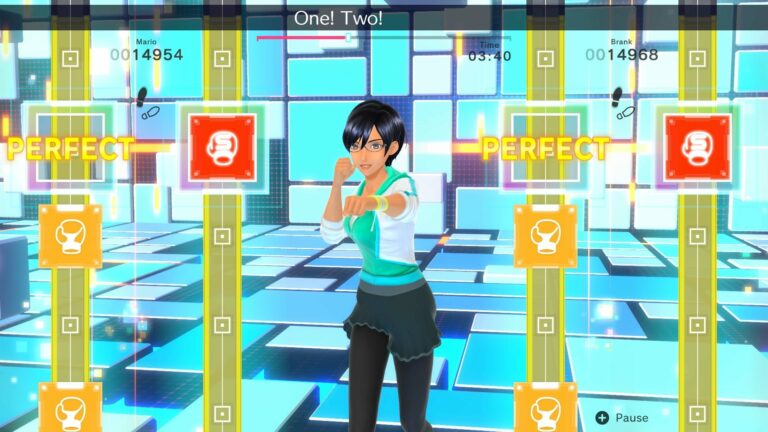 There's a selection of music to perform your routines to, although the quality isn't exactly sensational. Although they're based on real songs, they aren't officially licensed tracks.
Instead, you'll be punching, ducking and weaving along to MIDI versions of the likes of Cyndi Lauper's Girls Just Want to Have Fun, Bon Jovi's It's My Life, and that perennial internet favourite, Darude's Sandstorm.
Still, the workouts are enough to build up a sweat and the ability to customise your trainer and unlock new outfits for them adds some degree of gamification to the process, giving you targets to work towards.
---
Best fitness games: Beat Saber
Available on the majority of VR headsets, Beat Saber is a fitness game masquerading as a rhythm action game.
Its initial appeal is clear: it's a cool-looking music title where you use two giant lightsabers to hit oncoming blocks to the rhythm.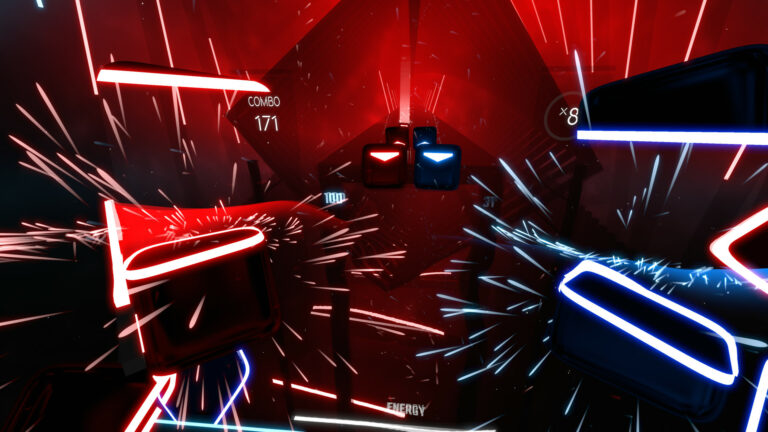 The reality, however, is that once you get used to its mechanics and once you become so familiar with each block that the direction in which to swing each time becomes second nature, that's when things kick up a gear.
That's when you start playing on higher difficulty levels, that's when the heart starts racing and that's when Beat Saber's true form as a fitness title reveals itself.
Of all the games in this list Beat Saber requires the highest level of skill to play, but is arguably the most enjoyable once you get the hang of it.
---
Best fitness games: Just Dance 2022
The Just Dance series is almost as old as Wii Fit, but the difference is that Ubisoft has continued to release annual games in the series ever since it first launched in 2009.
In fact, it was even releasing annual instalments on the Wii all the way up to Just Dance 2020, and only stopped because Nintendo of America was no longer able to manufacture the discs.
Just Dance 2022 is the latest release in the series and while it's not on the Wii it is on every modern Xbox, PlayStation and Nintendo system.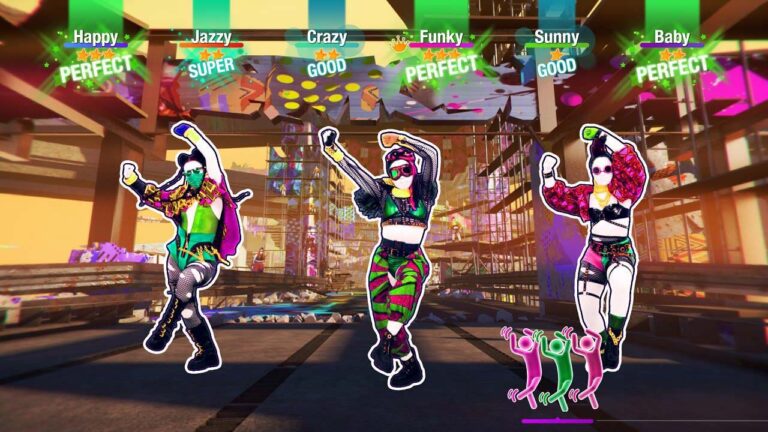 It includes more than 40 tracks covering a range of genres and decades, from iconic '80s synthpop (Bronski Beat's Smalltown Boy) to achingly hip modern K-pop (Blackpink's Boombaya).
Once you've danced the hell out of those, the game also gives you access to Just Dance Unlimited, a subscription-based service offering access to more than 600 tracks covering the series' history.
While the Switch is the only console that comes with motion-sensing controllers as standard, the game also supports the likes of PS Move, the PS4 camera and Xbox Kinect if you still have them lying around.
Otherwise, you can use the Just Dance mobile phone app to track your movements that way. The game's scoring isn't accurate regardless of which version you play – the whole point is simply to have fun and keep fit in the process.
---
Best fitness games: Shape Up
Speaking of Kinect, if you happen to still have an Xbox One and a Kinect adapter, then of all the fitness games released on the console Shape Up is the best of the bunch.
This Ubisoft release was similar to other fitness games of its era in that it had the player using the Kinect to track them as they carry out exercises.

The difference is that these exercises are then used to take part in a bunch of silly mini-games, including repeatedly squatting on a platform until you reach the moon, doing push-ups with an elephant on your back or running across the top of a speeding train.
The game's most inventive idea, however, is its Quest mode, in which players set themselves four-week missions where they have to take part in a series of games on a weekly basis to reach and take on a boss.
Shape Up is one of the better fitness games for players who are well versed in gaming, so if you still have access to a Kinect you should probably nab it the next time it's available for dirt cheap in an Xbox sale (which is often).
---
Best fitness games The Thrill of the Fight
There are a lot of VR boxing games out there – Creed: Rise to Glory is another strong contender – but The Thrill of the Fight is probably the best of the bunch so far.
Rather than focusing on quirky gimmicks and the like, The Thrill of the Fight aims to be the most realistic VR boxing title, and that certainly comes across.

The game has no stamina or power meters: that's wholly determined by your own fitness and swinging ability. If you want to go in swinging you can, but you'll be struggling before long as you run out of energy.
Each boxer also has their own specific fighting styles, meaning each requires a different strategy to expose their weaknesses and take them out.
The one thing that may affect your enjoyment of The Thrill of the Fight is the amount of floor space you have. The game lets you draw out your maximum fighting area, up to the full size of the ring.
While it's perfectly possible to just stand still, swinging and blocking away, the game really does come into its own if you have enough space to wander around the entire ring.
---
Best fitness games: Knockout League
If The Thrill of the Fight focuses more on realism, then this VR title goes in the completely opposite direction.
Think of it as more of a virtual reality take on Nintendo's Punch-Out!! series, in which the aim is to take on a series of colourful characters.
Whether you're fighting a pirate with a hook for a hand, a woman boxer with an enormous protective dragon mask or an actual octopus with eight gloves, it's safe to say this one doesn't get dull.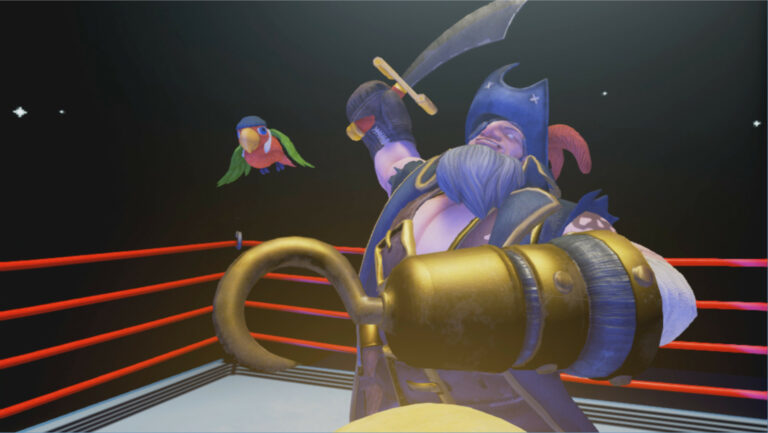 What it also isn't, however, is an authentic recreation of boxing, so if it's the spirit of good old-fashioned pugilism you care about, The Thrill of the Fight is still probably the one for you.
As a good laugh that has you ducking around and looking for tell-tale signs to dodge and counter-attack, though, this gives you a fun workout.
It's the game's selection of training drills that will really work up a sweat, though, making Knockout League more than just an arcade-style boxing game.
Related Products
Other Products
Some external links on this page are affiliate links, if you click on our affiliate links and make a purchase we might receive a commission.