Banjo-Kazooie in Smash Bros: Everything we know
Release date, music, skins and more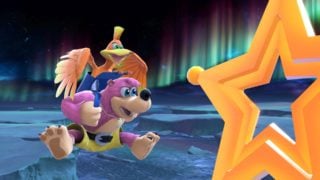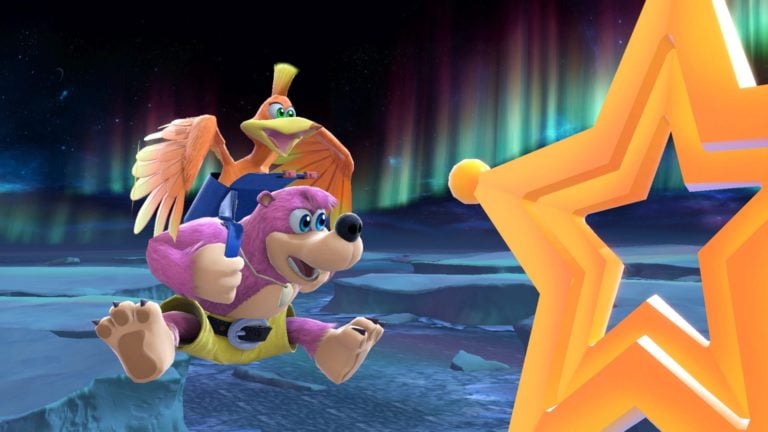 Dragon Quest's 'Hero' was released as character DLC for Super Smash Bros Ultimate in July, but the game's most awaited character addition remains on the horizon.
Banjo and Kazooie were announced as Smash Bros. Ultimate DLC at E3 2019 to a massive positive-reception across the board, with even series creators Steve Mayles and Grant Kirkhope admitting to shedding a few tears.
UPDATE: Nintendo has officially announced Banjo-Kazooie Nintendo Switch for its Switch Online subscription service.
With September upon us, expectations are rising rapidly of Banjo-Kazooie being released as the next Fighters Pack in the next few weeks, so here's a summary what we know so far.
UPDATE: Banjo-Kazooie is in Smash Bros.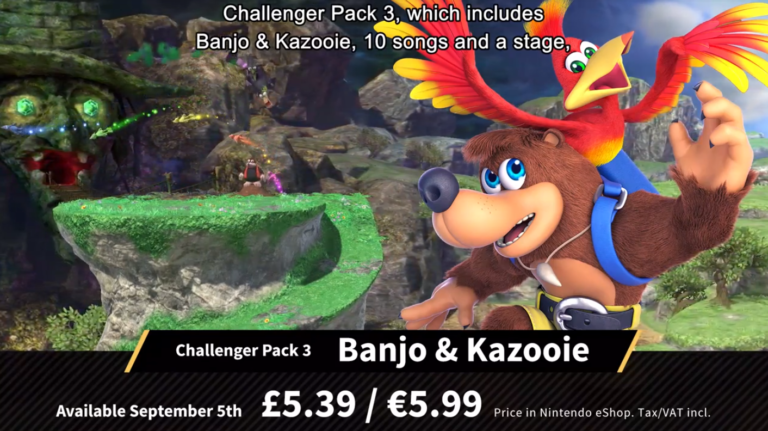 The eagerly anticipated Banjo-Kazooie DLC for Super Smash Bros. Ultimate has now released.
Nintendo announced the release date during its latest Nintendo Direct live stream on September 4.
The Banjo-Kazooie Challenger Pack is available to purchase individually for $5.99 USD / £5.39, or as part of the Fighters Pass.
Following the Nintendo Direct broadcast, Super Smash Bros. Ultimate director Masahiro Sakurai released a new Banjo-Kazooie DLC focused video, which revealed new details on the fighters.
The Banjo-Kazooie DLC features a total of ten songs, seven of which are new arrangements.
The Banjo-Kazooie Smash Bros. songs include Main Theme, Spiral Mountain (by Grant Kirkhope), Mumbo's Mountain, Treasure Trove Cove, Freezeezy Peak, Gobi's Valley, Mad Monster Mansion, Vs. Klungo, Vs. Mr. Patch and Vs. Lord Woo Fak Fak.
What is Banjo-Kazooie?
Banjo-Kazooie kicked off a series of games that first appeared on the Nintendo 64 back in 1998. Created by Rare, the game began as a prototype called 'Dream', where players would control a boy through a prehistoric land with a sword. Eventually, this idea would morph into the two characters you would see today, collecting Jiggie's to defeat Gruntilda, a witch who held Banjo's sister, Tooty, hostage.
A sequel soon arrived in 2000, and after a couple of spin-offs on the Game Boy Advance the company was bought by Microsoft in 2002.  Eventually fans were given another entry, 'Nuts & Bolts' in 2008 on Xbox 360 to a mixed reception; mainly due to the game mechanics focusing on creating vehicles in a McGuyver mentality and piloting these across many varied worlds.
Since 2008 nothing has come up with the duo, and after years of hoping for a series revival, the Rare duo were announced at Nintendo's E3 Direct to be appearing in Smash Bros, as part of the Fighters Pass DLC.
When will the Banjo-Kazooie Smash Bros. DLC release?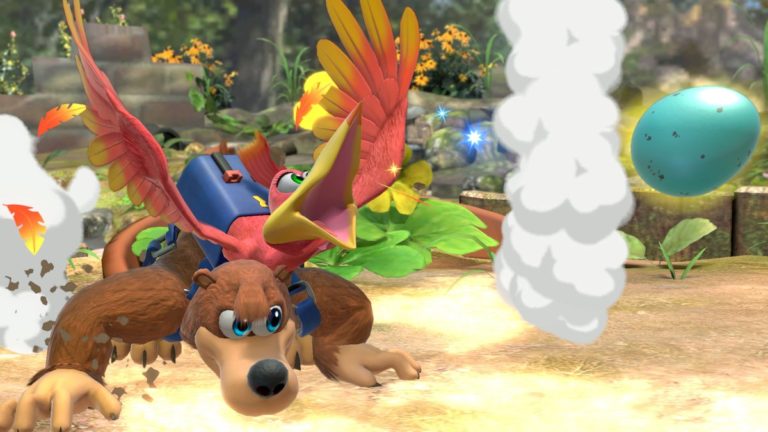 September is a month known to traditionally wield one of Nintendo's well-loved Direct events, with last year's event announcing a wide catalogue of Final Fantasy games, alongside Luigi's Mansion 3 and Animal Crossing for Nintendo Switch.
UPDATE 04/09: Banjo-Kazooie is now available for Super Smash Bros. Ultimate.
So to have Rare's most famous duo announced with a release date at the next Direct seems possible. Hero's moment was a video presentation followed by a release, so the same could follow for Banjo-Kazooie. Usually Nintendo's Directs have appeared in the second week of September, so it may not be too far away for more information.
UPDATE 28/08: Masahiro Sakurai has suggested he will continue with his 'low budget' character release videos for Banjo-Kazooie's release.
Sakurai announced the release details for the Hero character DLC in July, via an unscripted, ad-hoc video which appeared in deep contrast to Nintendo's usual slick video presentations.
In his latest Famitsu column Sakurai explained that he no longer has the budget for high production video presentations, something he first joked about in the Hero presentation itself.
UPDATE 02/09: Adverts for the Banjo-Kazooie Smash Bros. DLC have begun appearing in Japanese convenience stores, suggesting that it's release could be imminent.
The last time similar ads appeared for the most recent Hero DLC, the character was released within a week.
UPDATE 04/09: A new Super Smash Bros. Ultimate advert spotted in Australia has suggested the game's Banjo-Kazooie DLC content could release as early as this month.
The ad, which was posted on the Resetera forum, states that Banjo-Kazooie will release in the Southern Hemisphere's spring season, which officially runs from September 1 to the end of November.
What are Banjo and Kazooie's movesets?
The Banjo-Kazooie games were well known for their many movesets, with Bottles the mole (and later his brother JamJars) teaching the heroes many outlandish and disparate abilities during their adventure.
With only the trailer and a few screenshots to suffice, the following moves were shown for Banjo and Kazooie in Smash Bros. Ultimate:
Talon Trot
Break Buster
Rat-a-tat Rap
Eggs
Breegull Blaster
Wonderwing
Shock Spring Jump
YouTube channel Inside Gaming offers a strong analysis of what we've seen so far:
The pair's final smash is the Jinjonator from the first Banjo-Kazooie game, where this was used to finally defeat Gruntilda. It looks to be a powerful move, where you will be able to inflict a lot of damage onto single (or likely multiple) enemies in the match.
How were Banjo and Kazooie designed for Smash Bros?
Rare's Diddy Kong Racing and Jet Force Gemini artist, Paul Cunningham was responsible for Banjo and Kazooie's design in Smash Bros. Ultimate.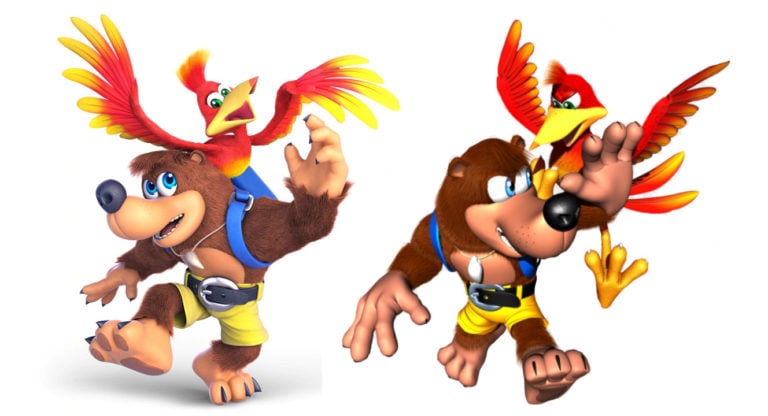 The 24-year company veteran has typically worked as an environment artist, creating 3D art for Blast Corps, Diddy Kong Racing, Jet Force Gemini, Kameo: Elements of Power, Conker: Live and Reloaded and Kinect Sports.
But for much of the past decade Cunningham has worked in a marketing art capacity, so it's possible he provided feedback for Banjo and Kazooie's Smash appearance, rather than creating the actual model himself.
Rare wrote on a recent blog post: "It's been a tightly kept secret but we've been collaborating closely with the Smash team on this crossover since last year, on everything from movesets to musical choices…
"While a core group of folks at Rare worked on this, we have to give a special shout out to our own Paul Cunningham who has been our point man on getting everything about Banjo and Kazooie's appearance just right.
"Your favourite duo are in very safe (albeit fighty) hands and we honestly cannot wait for everyone to get their game on in the incredible Smash universe."
Banjo and Kazooie's original character artist, Steve Mayles, recently commented on the duo's Smash design, telling Youtuber Shesez he was surprised at how true to the original it turned out.
"I think it's very true to the original concept," he said. "I was surprised that they hadn't made any tweaks, because with the K. Rool model they gave him a bit of a nip and tuck and he came out looking as good as he's ever looked.
"But with Banjo they seem to have been very careful to make sure that he looks almost exactly the same as the N64 promotional model that I did, which is a great honour for me."
Mayles revealed that if he had been responsible for Banjo and Kazooie's Smash models, he would've made some changes.
"If I was doing it I would've made a few changes, but I can completely understand why they copied the N64 model, because that is the model the fans love," he explained. "If they made too many changes, you'd have people saying, 'it doesn't look like Banjo anymore!'"
What does Banjo-Kazooie's original character designer think?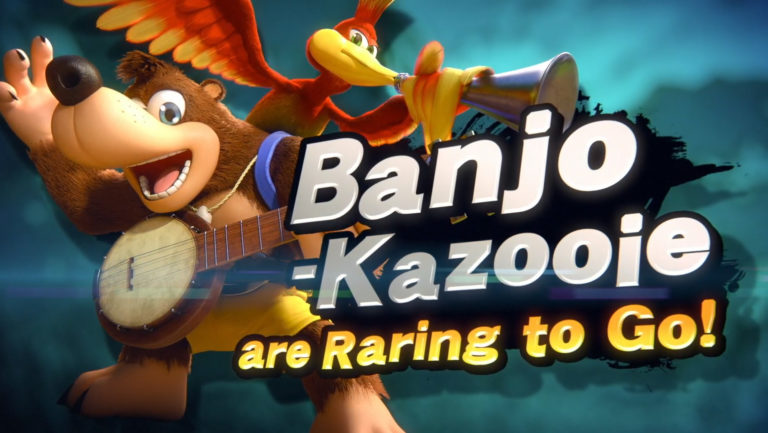 Steve Mayles, the character designer originally responsible for Banjo and Kazooie, told YouTube channel Shesez that he found the Smash Bros. reveal "mind-blowing, there's no other word for it really."
He added: "I just couldn't take it in. I had to watch the reveal later in the day about 10 or 20 times just to take in everything that was going on. It was just really surreal."
Mayles watched the Nintendo Direct reveal live at the offices of Yooka-Laylee studio Playtonic Games, where he works as an artist and text editor, alongside many other developers who worked on Banjo-Kazooie at Rare. "I think we were just stunned really," he said of their reaction.
Mayles also created Donkey Kong's K. Rool, who was revealed as a Smash. Bros Ultimate character prior to the game's December 2018 release.
"It's just surreal to see these characters I made 20, well more than 20 years ago in some cases, and they're back in high resolution looking as I originally created them. It's just strange but awesome at the same time."
What are Banjo and Kazooie's alternative skins?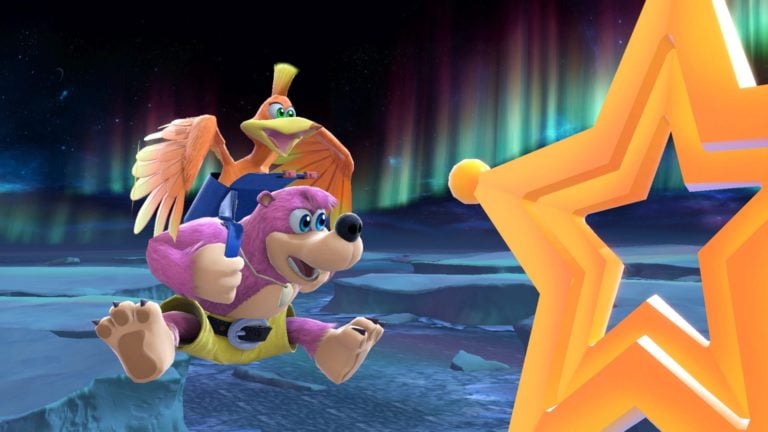 So far just one skin has been shown, with Banjo in pink and Kazooie looking more similar to her appearance in 'Nuts & Bolts'. 
But there's plenty of opportunity here to see Banjo & Kazooie in their original, polygonal form from the N64 days, in their Nuts & Bolts form, or even Kazooie in her dragon form from Banjo-Tooie.
But with Rare artist Paul Cunningham advising the Smash team in how the duo look, there could be more Easter Eggs to appear in their appearance when they're released.
What is Banjo and Kazooie's main stage?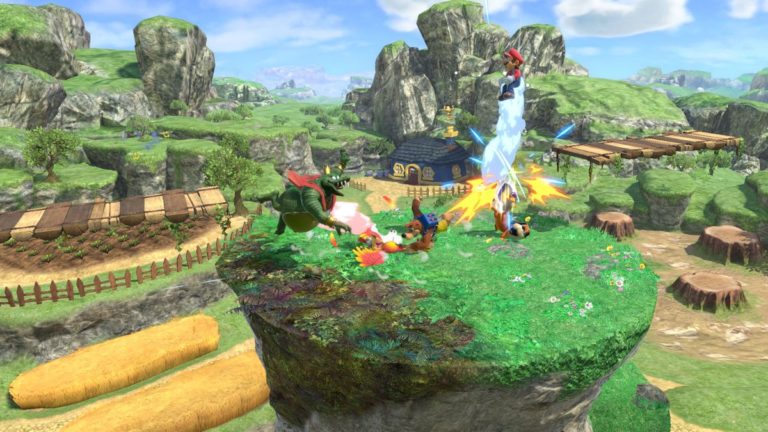 This is Spiral Mountain, a fixture of the series, where Banjo & Kazooie first start their adventures, and here, the players are set high above at the top of the hill, where you would normally go to Gruntilda's Lair in the first game. 
In the footage shown so far, Spiral Mountain appears to be a rotating stage with a buzzbomb enemy in the background, alongside Banjo's house, Gruntilda, Bottles, and Mumbo Jumbo, so if there's a character you don't recognise, there's a strong chance you would eventually.
What music will be appearing?
With Grant Kirkhope composing an 'overture' theme of Banjo for the reveal trailer, alongside series lead Sakurai being happy with the collaboration, there's plenty that could be used as alternative themes.
From Spiral Mountain, to Click-Clock Wood, or maybe Terrydactyland from Banjo Tooie, there's plenty from Grant's efforts that could be available to choose from. Traditionally multiple tracks appear alongside character DLC, so we expect a few remixes.
Kirkhope told VGC in June that it took more than a month of waiting after signing an NDA before he learned the news that Banjo and Kazooie had been included in Smash Bros., and he set to work on creating a tune for their Nintendo revival.
"I started thinking what the most recognisable Banjo-Kazooie tune would be," he said. "I went through a few different ideas like Mad Monster Mansion, Freezeezy Peak or Treasure Trove Cove, but eventually settled on Spiral Mountain. I thought that would be the most recognisable of all of them.
"I didn't actually know the Banjo stage in the game was Spiral Mountain, so it was pretty handy when I found out I'd accidentally matched the tune with the stage. Maybe they should've told me at the start!"
In all, it took a good 12 iterations to get to the final Banjo-Kazooie Smash Bros. music, which Kirkhope said is unusual for him.
"When I have to redo any of my own stuff, like in Yooka-Laylee which was very much Banjo style, I don't want to do it almost. I'm not great at going back to old stuff – I usually end up making it worse! But once I started it, it was great fun. But I had to get it right for the fans.
"Nintendo Japan also asked me to weave in some references to other Banjo levels, so I put in bits of melody from other tunes. It's up to the fans to spot them!"
Could there be Assist Trophies alongside Banjo-Kazooie?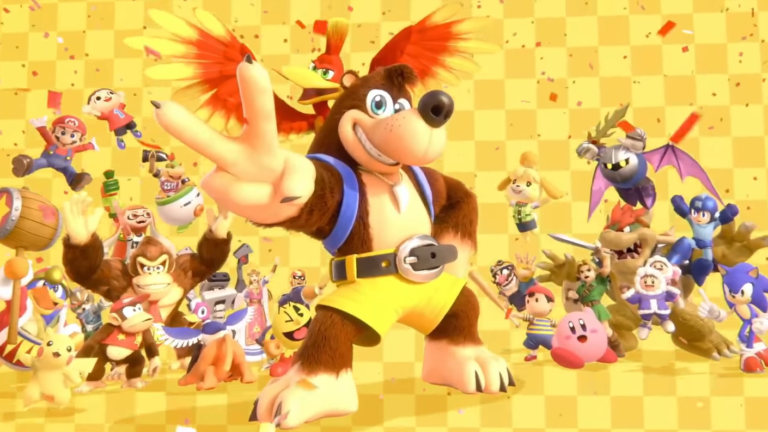 Assist Trophies are a great feature of Smash Ultimate, and due to the many memorable characters that Banjo-Kazooie has featured throughout the series, there's plenty of choice.
Having Bottles appear would be a great addition, or even as his 'Bottles Revenge' persona being able to help the player throughout a match, or even Gruntilda to fly across the stage would be a nice touch.
Maybe even the fabled 'Stop & Swop' Ice Key could appear as a weapon to be given to Banjo-Kazooie from an echo-fighter, but there's far too many possibilities here that could work for Smash to fit into this article.
Related Products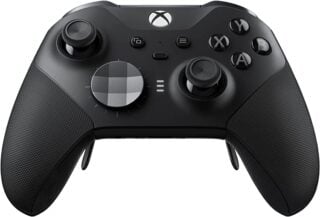 Xbox Elite Series 2 Wireless Controller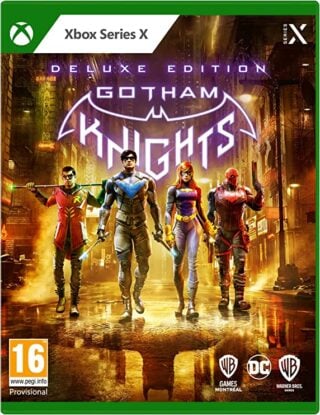 Gotham Knights - Deluxe Edition (Xbox Series X|S)
Other Products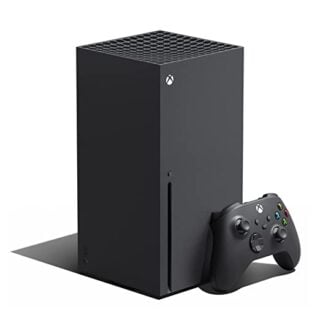 Xbox Series X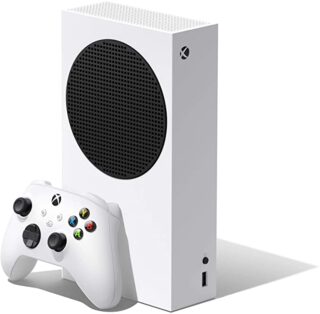 Xbox Series S
Some external links on this page are affiliate links, if you click on our affiliate links and make a purchase we might receive a commission.