9 Wii U and 3DS games you need to buy before next week's store closure
Ony a few days remain before digital exclusives disappear forever on the systems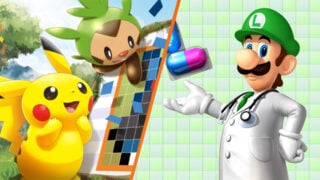 There are only a few days left before Nintendo closes down the Wii U and 3DS eShops.
Nintendo is in the process of completely shutting down both digital stores, and players are only able to buy games on them until March 27.
After that date, everything on the Wii U and 3DS eShop (including some 1000 or so digital-only titles) will be gone.
A number of these titles will still be available on other formats, so there'll at least still be a way to play them.
However, as detailed in our analysis of the Wii U and 3DS eShop closures, hundreds of exclusive games will effectively disappear forever once the stores close.
Naturally, not every Wii U or 3DS exclusive is an essential title, but there are some gems that players should definitely snap up before they're no longer available.
We've put together this list of our personal choices of the nine (well, technically it's 24) games we think are worth buying before the Wii U and 3DS eShops close for good.
Note: You can no longer top up your balance on your 3DS or Wii U. If you plan on buying something, you need to merge your Nintendo Network ID (used for Wii U and 3DS) with your Nintendo Account (used for Switch). This will let you merge both balances and top up on the Switch.
---
It may seem crazy that a series as popular as Pokémon will suddenly have games removed from existence, but the closure of the Wii U and 3DS eShop will actually remove a number of Pokémon games.
The Wii U will be losing Pokémon Rumble U, while the 3DS will be losing bizarre AR game Pokémon Dream Radar and puzzle title Pokémon Shuffle, the latter of which can still be found on iOS and Android.
These games are all a tad dull, so while their loss is still a legitimate shame in terms of game preservation, we don't think anyone should be throwing their credit cards at the eShop to get them before the doors close.
A better recommendation is Pokémon Battle Trozei, known as Pokémon Link Battle in Europe. It's a puzzle game where players use the bottom screen to match Pokémon up in order to clear them.
On paper that doesn't sound very unique, but you also battle wild Pokémon who appear on the top of your screen. By matching Pokémon on the bottom screen you damage the wild ones for a chance to catch them and add them to your roster.
All 718 Pokémon that were available at the time can be found and collected in the game, meaning anyone who's into match-style puzzle games will have a lot to do here.
---
Mario vs Donkey Kong: Tipping Stars
Although the sixth game in the Mario vs Donkey Kong series was released physically in Japan, Tipping Stars was download-only in North America and Europe, and since neither the Wii U nor the 3DS are region-free that means it'll essentially die in the west.
As in previous games in the series, the aim is to guide little Mini Mario toys to the end of each stage, in a style not unlike the Lemmings titles.
While players don't have direct control over the Minis, they can use the touchscreen to drag around things like girders, springs, pipes, lifts and conveyor belts to help them move around each stage and avoid dangers.
The game was released on both Wii U and 3DS, meaning both versions will disappear to western audiences after their eShops are closed down.
If you're interested in getting it, even better: the game has a cross-platform deal in which buying one version gets you a download code for the other version.
It doesn't exactly reinvent the wheel or anything, but it's still a very enjoyable Mario puzzle game and really should be snapped up before it's gone forever.
---
Dr Luigi
Long before 2020-22 were the years of COVID-19, and long before 2016 was the year of celebrity deaths, we had 2013, the Year of Luigi.
It was a happier time, a time when Mario's often forgotten brother finally got a chance to enjoy the limelight for once.
A number of titles were released to commemorate the Year of Luigi, but the one most people tend to forget is Wii U eShop exclusive Dr Luigi.
There have been plenty of other Dr Mario games released in the past, and the NES and Nintendo 64 versions can both be found on Switch Online already.
Dr Luigi is unique, however, because not only does it feature the same classic Dr Mario gameplay, it also has a new mode called Operation L, which uses large L-shaped vitamins which split up when they land, leading to a whole host of new strategic problems.
Above all else, as the only Dr Mario game released in HD to date, it's the best way to play Dr Mario in multiplayer, one of the most criminally underrated multiplayer modes of all time.
---
The Pushmo series
The death of one game is bad enough, but the death of an entire series is verging on tragedy, especially when it's a series as wonderful as Pushmo (known as Pullblox in Europe).
Each game was developed by Intelligent Systems, and each has players controlling Mallo, a plump little chap who specialises in pulling and pushing giant blocks.
The aim in each game is always the same: to push and pull blocks in different directions to create platforms, which Mallo can then jump across to reach an intended target.
This initially starts off simple enough but eventually evolves to incorporate enormous constructions full of blocks that become a real challenge to scale, and extremely satisfying to conquer.
There are four games in the series and they're all marked for deletion, so if you want them all you need to get:
Pushmo (Pullblox in EU) – 3DS
Crashmo (Fallblox in EU) – 3DS
Pushmo World (Pullblox World in EU) – Wii U
Stretchmo (Fullblox in EU) – 3DS


---
The BoxBoy trilogy
Pushmo isn't the only first-party puzzle series about to get the chop. The original BoxBoy trilogy of 3DS titles will soon be no more in the west.
This delightfully monochrome series has you playing as Qbby, a small white box that can spawn more boxes and use them to solve puzzles.
BoxBoy's fiendish stages and charming appearance made the game something of a cult favourite, and its sequels BoxBoxBoy and Bye-Bye BoxBoy were similarly well-loved.
So for clarity, that's:
BoxBoy!
BoxBoxBoy!
Bye-Bye BoxBoy!
In Japan, the game developed enough of a following that Nintendo bundled all three titles together on a physical cartridge, along with a Qbby amiibo, which is now one of the most expensive amiibo around.
This physical version was never released in the west, however, so – much like Mario vs Donkey Kong Tipping Stars – the closure of the eShop will kill the BoxBoy trilogy in Europe and North America.
The only saving grace is that a new fourth game in the series, BoxBoy + BoxGirl, was released on the Switch, meaning BoxBoy won't be entirely dead in the west, even though his past will be.
---
Fluidity: Spin Cycle
Back in 2010, British developer Curve Studios (now British publisher Curve Games) released Fluidity on the Wii's download service WiiWare.
Known as Hydroventure in Europe, the game was a brilliant puzzle platformer in which the player controls a large pool of water, tilting the Wii Remote to rotate the entire game world and slosh the water around.
Fluidity was lost forever when Nintendo closed down the WiiWare store, and now its sequel Fluidity: Spin Cycle (aka Hydroventure: Spin Cycle) looks set for the same fate.
Spin Cycle is just as charming as its predecessor and boasts some of the best use of the 3DS tilt sensor, something a lot of players forget it even had because so few games made use of it well.
It's one of those games that really didn't get the attention it deserved back in the day, so 10 years later we recommend you right that wrong and buy it before you're no longer able to and we're left saying "I told you so".
---
Picross games
To those in the know, Picross is one of the greatest puzzle video game series of all time. Think Sudoku, but with an actual purpose.
The Picross series has been associated with Nintendo ever since Mario's Picross on the Game Boy, and developer Jupiter has regularly been releasing small digest versions on the 3DS eShop (and now the Switch eShop) for the past decade.
The removal of the 3DS eShop means all eight games (nine in Japan) in the Picross e series will be gone, meaning a total of 1,714 puzzles will no longer be available.
It isn't just the Picross e series that will be gone, however. There were also three spin-off Picross games released on the 3DS eShop in the west, meaning the whole list of Picross games you'll need to collect the set is:
Picross e
Picross e2
Picross e3
Picross e4
Picross e5
Picross e6
Picross e7
Picross e8
My Nintendo Picross: The Legend of Zelda: Twilight Princess
Pokémon Picross
Sanrio Characters Picross
At the very least you should be claiming Pokémon Picross, which is free-to-play. You can buy 'Picrites' which let you top up energy, but once you buy 5000 (around $32 / £28), the game decides you've paid enough and they're free from that point on, meaning the 'unlocked' game is essentially the price of a retail title.
The Twilight Princess Picross game can only be claimed through My Nintendo. If you can gather 1000 Platinum Points before the eShop closes you'll still be able to get it.
---
Pocket Card Jockey
Everyone obviously associates Game Freak with the Pokémon games, but the studio also developed two adorable 3DS eShop titles which will soon be unceremoniously binned.
The first of these is Pocket Card Jockey, a fantastic game that's part horse racing, part Solitaire. Yes, Solitaire.
You play as a jockey who's trampled to death at the start of the game. Luckily, an angel gives you a second chance and tells you that racing a horse is just like playing a game of Solitaire.
Races, then, involve trying to solve Solitaire puzzles as quickly as possible and using them to build your horse's stamina.
As horses go through each race, they get stronger but also older and eventually have to be retired, which can be genuinely touching after you've grown attached to the little fellas.
Pocket Card Jockey is one of those games that appears very simple at first, but when it was initially released back in 2016 we had numerous sessions that wiped our entire 3DS battery because we'd played it for so long.
A polygonal remake called Pocket Card Jockey: Ride On was released on Apple Arcade earlier this year, but it's quite a bit harder and doesn't have the same sprite-based charm as this 3DS version (not to mention it's unavailable if you have an Android phone).
---
HarmoKnight
The other Game Freak title set to be removed permanently is the wonderful HarmoKnight, a rhythm platformer released in 2012.
The game stars Tempo, a young boy who lives on the musical planet of Melodia. When a meteor crashes on the planet, an evil alien race appears and starts disrupting the peace.
It's up to Tempo to travel across Melodia, restoring serenity by using his magical note staff to beat up the alien invaders.
Similar to games like Vib-Ribbon and the music stages in Rayman Legends, HarmoKnight is an auto-scrolling platformer where players have to perform actions – in this case jumping and swinging the staff – to the beat of the music.
The music is fantastic throughout (headphones are recommended) and some levels also have multiple routes with hidden secrets, making replays essential.
The game is just such a pleasant experience, and there are also bonus stages containing Pokémon music to keep fans of Game Freak's more popular series happy. Anyone looking for a cheery, fun rhythm game for their 3DS should really get this before it disappears.
Related Products
Other Products
Some external links on this page are affiliate links, if you click on our affiliate links and make a purchase we might receive a commission.