5 features Mario Kart 9 should take from Tour
There's much to like, underneath the microtransactions…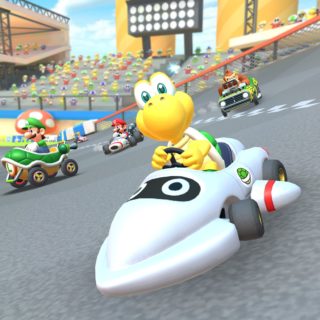 The stats show that Mario Kart Tour has been a huge success and we think the inevitable Mario Kart 9 could learn from it.
With 123 million downloads in its first month, the racer is by far Nintendo's most successful mobile title in terms of first month installs. And on iOS, it was the most downloaded free title on the App Store for the whole of 2019.
But among some critics there appears to be an air of snobbery around the new Mario Kart, an assumption that the mobile game must be little more than a watered down port dressed in a microtransaction wrapper (admittedly, the in-app purchases part of the game is pretty awful.)
Dig deeper into Tour's mechanics, however, and even the most hardened critics must acknowledge there are plenty of new ideas introduced in the spin-off that Nintendo would do well to adopt for future mainline instalments. Features such as the excellent combo system, welcome track variants and a constant supply of new characters and courses.
With Mario Kart 9 unlikely to arrive before Nintendo's next console, there's plenty of time for the Japanese company to take inspiration from the latest instalment. Here's where we think it should look.
---
Combo system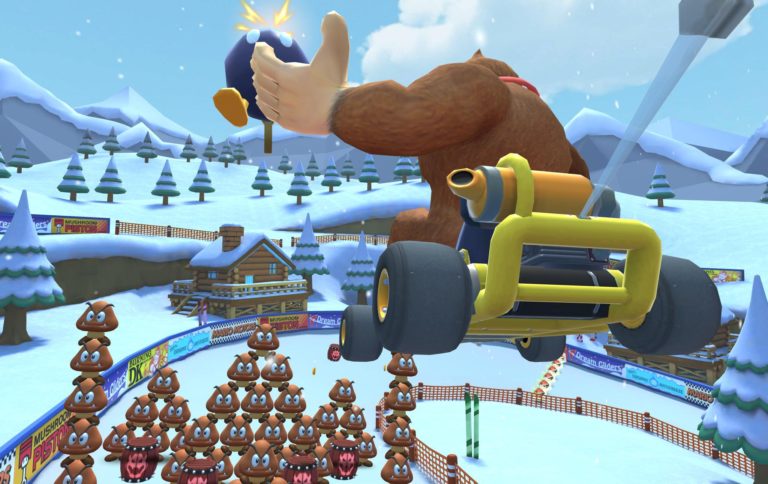 The combo system at the core of Mario Kart Tour makes the game a much more compelling single-player experience that its console cousins.
In Mario Kart Tour's mobile races, the amount of stars you're rewarded at the end of each race is determined not by your race position, but by your player score.
Placing higher up the table will contribute to a higher score, but the number is also determined by the character and kart you're using and more importantly, the amount of actions you perform during a race.
When multiple actions are performed in quick succession a combo will start. As long as you continue to perform actions such as drift turbos, jump tricks or using items, your combo will continue to climb along with your score multiplier. If a combo streak is broken, your score multiplier will reset to zero.
This sort of scoring system isn't new in racing games – we've seen similar features going back at least as far as the Project Gotham Racing titles on the original Xbox – but for Mario Kart it's a breath of fresh air that brings depth, competition and a new style of play to the veteran racer.
---
Track variations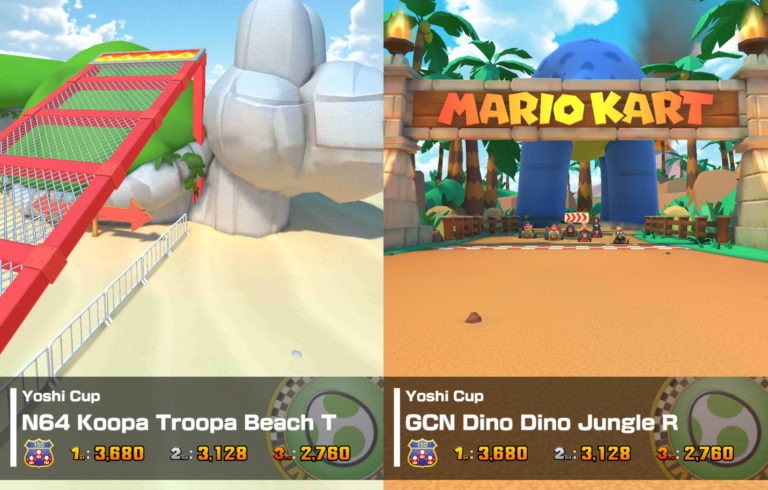 Mario Kart has always had its mirrored events, but Tour takes the concept of remixing existing tracks a step further.
Each track in the game has several variants. Some of these introduce significant transformations to the original track, such as 30 foot jump ramps and even giant dinosaurs added to the course.
'Trick' variants litter courses with ramps and glide sections, totally changing the feel and pace of races. The optimal route around the track is drastically altered by these changes, along with the high scores players can conceivably achieve.
Meanwhile, Reverse variants are so simple and effective that's it's maddening they haven't been introduced before. Taking a backwards route around a track has far more implications than simply mirroring it, with players having to reverse-navigate what was once a large jump or downwards slope.
---
A reason to change gear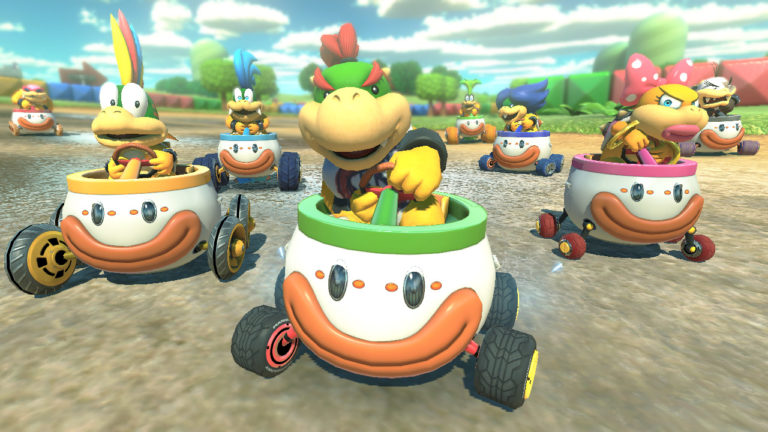 Karts, gliders and wheel tweaks have been a part of Mario Kart for the past few instalments, with each mix-and-match piece subtly changing the handling of your character. But once you've found the sweet spot for your style of play, you rarely change.
In comparison, Mario Kart Tour encourages players to change their character, kart and glider for virtually every race with the introduction of 'favoured' characters and gear.
Favoured characters and items will give players a higher score multiplier or in the case of characters, additional items per item block.
Karts each have one of various bonuses too, such as faster drifting boosts or improved jump scores, while gliders make certain items more likely to appear (and bonuses for using them).
While the feature is almost certainly designed to keep players spending money on content unlocks, it also introduces variety to events and encourages you to keep levelling up multiple karts and characters, rather than just your favourite.
---
Live content

How long have fans begged for more retro tracks in Mario Kart titles? Why has Mario Kart 8 Deluxe, the Switch's most successful game, not received any meaningful DLC?
These are baffling issues that have plagued the series' mainline instalments (Wii U's two DLC packs aside), but Mario Kart Tour is certainly not affected and hopefully Mario Kart 9 will take note.
With a new 'Tour' commencing every two weeks, the mobile game provides players with a regular flow of content including new characters, karts and full-blown remastered retro tracks.
At the time of writing, Tour has significantly more characters than Mario Kart 8 Deluxe, if those locked behind timed events are taken into account, and it will almost certainly come close to matching its 48 unique courses over the next year.
Tour already has fantastic remasters of classic SNES courses like Vanilla Lake, and the underrated DS roster including Waluigi Pinball and Luigi's Mansion.
Again, these regular content additions are often quite cynical, with new characters locked behind paywalls and seemingly impossible odds. But the point remains: Mario Kart is one of the most popular video games in the world, so why not keep players engaged with a regular stream of fresh content?
---
Ranked Cup

Competition is at the heart of Mario Kart, but for most players venturing online either isn't an option or more likely, isn't much fun.
This series can feel cripplingly unfair at the best of times, not least when 11 other players are saving their red shells for the last straight of the final lap.
Mario Kart Tour's Ranked Cup is a fantastic addition for those looking to compete with other players without the dreaded triple combo of lightning, red shell and blue shell hitting them in the backside.
Every week Tour matches players with a league table of similarly-skilled others, and challenges them to compete for the highest combined score across a three-race cup.
Sure, the players with the best gear have a big advantage, but the spirit of social competition feels so perfectly in line with Mario Kart as a series that we'd love to see Ranked Cup return in Mario Kart 9.
Related Products
Other Products
Some external links on this page are affiliate links, if you click on our affiliate links and make a purchase we might receive a commission.