2023 Preview: Resident Evil 4 could be a more restrained remake than 2 and 3
The new take doesn't stray too far from its source material, at least at first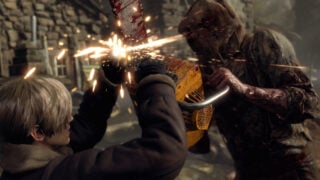 It's interesting to see, at least in early preview builds, how faithfully the Resident Evil 4 remake sticks to the original.
This certainly wasn't the case with the Resident Evil 2 remake in 2019, which generally retained to similar story beats but still played fast and loose with the structure, meaning anyone who knew the original inside-out would still find plenty of differences.
Meanwhile, the Resident Evil 3 remake the following year deviated completely from the original from the opening scene onwards, essentially offering up an entirely different take on the story.
Ever since VGC first reported on the Resident Evil 4 remake, we were curious to see just how much Capcom was planning to change with regard to the general structure. From what we've played so far, it seems it's wisely sticking close to the spirit of the much-loved original.
Resident Evil 4 remake - Hands-on preview | VGC
Granted, it goes without saying that the game looks significantly more impressive than its source material – hardly a surprise given the 18-year gap between the initial GameCube version and this remake's planned March 24 release.
The new character model for protagonist Leon is so detailed you'd swear it was a slightly scaled-down version of the model used in Netflix's animated Resident Evil: Infinite Darkness series.
This was to be expected, though. Given how seriously impressive the Resident Evil 2 and 3 remakes looked – especially after they received their current-gen updates with ray tracing applied – we would have been stunned if the Resi 4 remake looked anything less than stunning.
What we expected less, however, was for the remake to be so close to the original in spirit. Of course, it's not a like-for-like transplant – the opening forest section has been greatly expanded and wasn't present in the original, but what's here feels pleasingly faithful.
In the iconic village encounter at the start of the game, the layout is very familiar, but far more detailed in terms of destruction and detail.
At one point, we shot a lantern which caused a cow to catch fire, resulting in it running across the village and adding to the general mayhem. The iconic chainsaw villain also had more of a touch of Mr X about him, performing new moves like bringing down the top level of a nearby building, messing up our previously tried-and-tested escape routines.
It should also be noted, of course, that Capcom may be opting for the old 'reel them in then sucker punch them' routine with this remake. It may be mostly faithful to the original in the opening sections, but who's to say it doesn't suddenly hit a turning point later on and take the story in a wildly different direction?
We're looking forward to seeing the other ways in which Capcom has improved the game. We already noticed from what we've played that you can now move while aiming, something that wasn't possible in the original. You can also destroy parts of the scenery, which before was pretty much entirely unbreakable.
The knife system from the Resident Evil 2 remake has also been introduced here, allowing players to pull off counter-attacks if they end up in a tight spot. It's additions like this, which improve the game without completely overhauling it at its core, that will be welcome.
Capcom has already shown with its modern takes on Resident Evil 2 and 3 that it has the capability to go off-script and present a noticeably different take on a classic while still retaining the spirit of what made it so well-loved in the first place.
With the Resident Evil 4 remake, it remains to be seen whether it's willing to go quite so far, given that the first section is still pretty faithful to the original. It's a testament to how well the source material holds up, though, that even if the remake does stick closer to Resi 4 than Resi 2 and 3 did, we'll still be happy with that.
Related Products
Other Products
Some external links on this page are affiliate links, if you click on our affiliate links and make a purchase we might receive a commission.