2023 Preview: Hades 2 attempts to follow up one of gaming's greatest-ever surprises
From Early Access to Game of the Year, the well-documented story of Hades will be hard to follow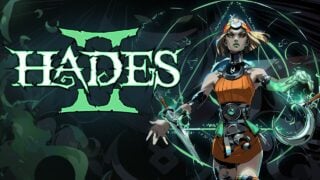 Hades 2 faces several huge challenges. Firstly, it has to come up with a new cast of characters as iconic and well-written as the motley crew that guided us up out of the underworld in the first game. To take the Gods of Olympus and turn them into relatable characters was an achievement in itself, but to make them so well-written that you don't mind if you die, because you're probably going to get a new voice-line, was genius.
Following that up is going to be extremely hard, but if there's a studio that's equipped to do it, it's Supergiant. Now on its fifth game, the studio is known just as much for its inventive gameplay as it is for its stellar writing.
While little is known about the game's plot, we know that you'll play as Melinoe, (the sister of the original protagonist Zagreus), who is the immortal princess of the underworld. During the game, you'll explore the underworld, which Supergiant promises will be a "bigger, deeper mythic world," on your journey to defeat the Titan of Time, which promises to be the big bad of Hades 2.
Good news for fans of Hades who've already betrothed their love to one of the Olympian gods, as they're planning to return for the sequel. "Plenty of new faces and some old friends," make up the cast, which is once again fully voiced and whose unique stories will change every time you return to the starting area.
The original Hades was unique in the fact that large portions of its development were documented, from the minute it was announced by Geoff Keighly at the 2018 Game Awards, where it launched on the nascent Epic Games Store, right up until it won over 70 Game of the Year awards. As part of NoClip's incredible Developing Hell series, fans of the game could follow along with Supergiant as the game moved through the stages of early access.
While Supergiant has said that it currently has no plans to announce another series, we really hope this isn't the case, especially as the game is once again being rolled out in Early Access. The way the team handled Early Access during the first game fostered a huge amount of trust, and as a result, players felt far more invested in the game as a whole, even if they'd already played large parts of it before it was fully released.
It is very difficult to pick holes in one of the best games of the last few years, but there are a few things that we'd love to see expanded upon in the new game. Firstly, and we're sure this will be the case, we'd love to see more weapons introduced to the game. The original lineup of weapons is iconic, and it even became shorthand for players who were making their way through the game.

"I've gotten to Meg with the spear, but I can get all the way to Hades with sword + tons of blood damage." That kind of loadout building is essential to the Hades experience. We imagine some of the classic weapons will be retired, and that the boons granted by the Gods will change.
That's why Early Access is so key to the development of the first Hades. In each build of the game that would release, there would be an utterly broken loadout that made picking anything else to feel like a waste of time, but Supergiant took that community feedback and refined the weapons until every single one of them was viable (although Shield players are total nerds).
Another great change would be some more variation in the way that the various stages are tackled. In Hades, you generally go to the same levels and fight the same bosses in the same order every time, a cool change for Hades 2 would be more branching paths, with would allow for even more of the contextual dialogue that Hades is famous for.While this might be hard to balance, it would freshen up subsequent runs even further if you're in control of which bosses you battle and when.
"The real test for Supergiant will be if they can create another cast of characters that are beloved (and thirsted after) by fans of the first game."
Ultimately, Hades 2 is an interesting case of a game that has a huge amount of expectation from fans, but very little trepidation that Supergiant won't get it right. They've absolutely smashed it with every release, and the original Hades is their magnum opus. They were VGC's 2020 Studio of the Year, with good reason.
In that piece, we said, "Even if Hades wasn't a fantastic game, Supergiant would still be the developer of the year. If anything, the fact that for many people it's their game of the year should be proof that you can produce excellence without sacrificing the health of your staff," a sentiment we hope to echo at the end of 2022.
The real test for Supergiant will be if they can create another cast of characters that are beloved (and thirsted after) by fans of the first game. With some of them returning, the challenge will be making sure they fit in, and that the classic characters don't overshadow them. Although, that does run the risk of annoying returning fans if one of their favourites becomes a bit part player.
Hades 2 is one of our most anticipated games of the year, and we really hope that Supergiant is closer to the first Early Access release than any of us expect. After all, who saw Hades 2 coming? Hades is a game with such unimpeachable gameplay that you'll be able to start it up in a decade, and it'll still hold up. That's a hard act to follow.