I simply doughnut believe what Xbox and Krispy Kreme are doing
Chris Scullion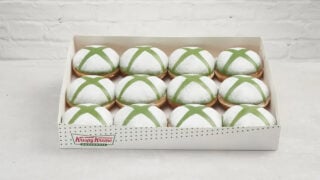 This is a blog post, where VGC writers post irreverent and (occasionally) entertaining coverage of video game culture.
Late last year, UK bakery chain Greggs released a limited edition meal deal to celebrate the launch of the PlayStation 5.
The deal came with a fancy box showing various Greggs snacks arranged in the shape of the PlayStation symbols.
Inside, however, there was nothing special: a sausage roll, a vegan sausage roll, two doughnuts and two cold drinks.
Players love a crossover, though, and so plenty of willing customers forked over five pounds sterling for it.
Not to be outdone, Xbox has unarguably gone one better by teaming up with Krispy Kreme in the UK to celebrate 20 years of Xbox. And even better, it's making actual new Xbox-themed food.
The Nexus Level doughnut is the result of this unlikely partnership, and we're not going to lie: despite generally being suspicious of green food it looks pretty great.
"This limited edition doughnut is made with our irresistible light and fluffy dough with a rich and gooey brownie batter, dipped in icing and decorated with the iconic Xbox logo," Krispy Kreme says.
Even better, they're only 370 calories, meaning you can eat five of them every day and as long as you eat nothing else you'll still be under your recommend daily calorie intake and will therefore be perfectly healthy*.
For now, it looks like this is going to be a UK-only thing, which is why we're writing 'doughnuts' instead of 'donuts'.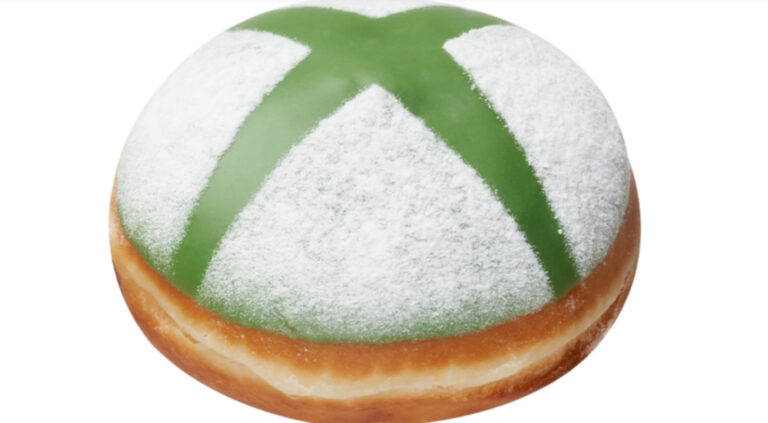 If you're a serious Xbox player and plan on using these to replace your entire diet for the rest of your life, however, we've got bad news for you: the Nexus Level will only be on sale from August 2 to August 22, after which Krispy Kreme will red-ring the whole promotion and they'll be gone forever.
If you buy a dozen of the things you'll also be able to enter a competition for a chance to win an Xbox Series S, and even if you don't win you'll get a voucher for a free month of Xbox Game Pass. And if you're thinking "what if I don't have an Xbox," then why are you jamming Xbox pastries into your wordhole? Why?
Needless to say, we'll be doing our journalistic duty and buying a load of these on launch day, just to make sure they don't have poison in them or anything. Yes, we're risking our lives to protect yours. You're welcome.
*Don't do this.