VGC Live: Watch us play the brilliantly ridiculous Cruis'n Blast
VGC's Twitch channel will be streaming this Switch gem for an hour
Chris Scullion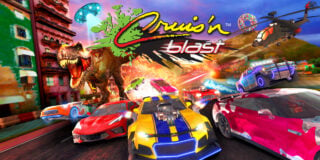 This is a blog post, where VGC writers post irreverent and (occasionally) entertaining coverage of video game culture.
Our next VGC Live stream will be taking place later today, as we take on Cruis'n Blast.
Blast is the sequel to such '90s racers as Cruis'n USA, Cruis'n World and Cruis'n Exotica, but is infinitely more over-the-top than those games were.
We haven't enjoyed an arcade-style racing game like this for a long time, and our live stream should hopefully show you why Cruis'n Blast is… well, a blast.
We'll be playing through a selection of courses in some of the game's stranger vehicles, so if you've ever wanted to see a giant glowing Triceratops rampaging through London as the London Eye rolls past, you're in luck.
The stream will be taking place today at 9pm BST (4pm ET, 1pm PT) and will last for around an hour. We'll then update the site with the on-demand version shortly afterwards.
If you want to see more of our streams in the future, please do head to our Twitch channel and click the Follow button to be informed when we're starting a new stream. Naturally, we'll also tell you in advance on the main VGC site too.
We hope to see you there for what will undoubtedly be a serious test of Twitch's compression algorithm.