VGC Live: Watch us play a series of FIFA 22 matches
VGC's Twitch channel will be streaming EA Sports' latest for 90 minutes
Chris Scullion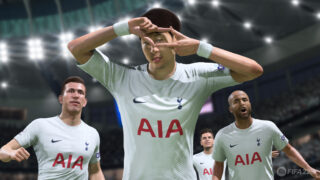 This is a blog post, where VGC writers post irreverent and (occasionally) entertaining coverage of video game culture.
Our next VGC Live stream will be taking place later today, as we take on FIFA 22.
The 29th game (that's right) in the FIFA series is out on October 1 and Early Access will be available to EA Play and Game Pass Ultimate members today, but as we're currently in the process of reviewing the game we decided we might as well get in on the buzz.
Because nobody wants to watch us meticulously arranging our Ultimate Team squad, we'll be playing a series of short Friendly matches to make sure a variety of teams are covered, then we'll jump into the Volta street football mode to mix things up a bit.
Given that it's nearly impossible to keep all football fans happy with a stream like this, we'll be taking viewer requests for teams to choose, so if you desperately want to see that Guangzhou vs Guangzhou City FC derby you'll need to make your voice heard.
The stream will be taking place today at 9pm BST (4pm ET, 1pm PT) and will last for around an hour and a half. We'll then update the site with the on-demand version shortly afterwards.
If you want to see more of our streams in the future, please do head to our Twitch channel and click the Follow button to be informed when we're starting a new stream. Naturally, we'll also tell you in advance on the main VGC site too.
We hope to see you there so you can join us in our conspiracy theories on why none of Celtic's players, even Joe Hart, look anything like the real life ones.