Podcast: What is Jim Ryan's PlayStation Legacy?
Plus: What's next for Hideki Kamiya?
Jordan Middler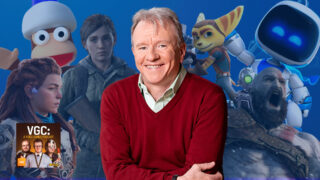 This is a blog post, where VGC writers post irreverent and (occasionally) entertaining coverage of video game culture.
The latest episode of VGC's new weekly show, VGC: A Video Game Podcast, is now available on all major audio platforms.
This week VGC's Jordan Middler and Andy Robinson are joined by GamesIndustry.biz boss Chris Dring to discuss Jim Ryan's retirement, the cancellation of Hyenas, and more.
We also get Andy's thoughts on Alan Wake 2.
If you'd like to get in touch with the podcast, you can do so via podcast@videogameschronicle.com.
VGC: A Video Games Podcast episodes are available weekly, hosted by VGC's Jordan Middler, Chris Scullion and Andy Robinson, and broadcaster Pete Donaldson, featuring regular special guests from across the games industry.
The weekly show is produced by Stak, the company behind some of the UK's biggest podcasts, including Football Ramble, JaackMaate's Happy Hour and Abroad in Japan.
You can subscribe to VGC: A Video Games Podcast now on iTunes, Spotify, Amazon Music and more.