Podcast: Spider-Man 2 Spoilercast – Predictions for Spider-Man 3
Warning: Full spoilers for Spider-Man 2 ahead
Jordan Middler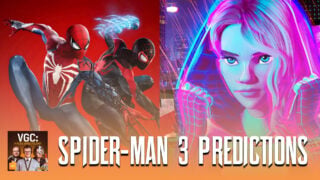 This is a blog post, where VGC writers post irreverent and (occasionally) entertaining coverage of video game culture.
Finished Spider-Man 2? Looking for a heated discussion on where Insomniac might go with a third entry?
Well you're in luck, because in this special edition of the VGC podcast, we've assembled the crew from our Spider-Man 2 review – Laura Kate Dale from Access-Ability, Ewan Moore from Gaming Bible, Stacey Henley from The Gamer and PCGamesN's Will Nelson – to talk about the game.
You've probably guessed from the title, but this video includes full spoilers for the game, with nothing held back, so be warned.
VGC's Spider-Man 2 review reads: "Spider-Man 2 is a fantastic game and undoubtedly one of the best superhero games ever. It confidently handles one of Spider-Man's most seminal storylines, and adds new elements to it to make it its own.
"With practically every complaint from the original game answered, Insomniac has delivered one of the best games of 2023."
Related Products
Other Products
Some external links on this page are affiliate links, if you click on our affiliate links and make a purchase we might receive a commission.