'Microsoft should buy Embracer Group' – Comments of the Week
We round up the correspondence VGC has received this past week
Chris Scullion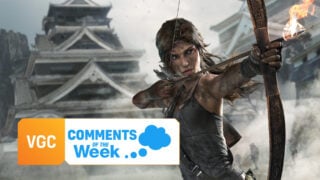 This is a blog post, where VGC writers post irreverent and (occasionally) entertaining coverage of video game culture.
We spend all week writing words for you, our dear readers, so it's only fair that we read the words you write back at us.
Comments of the Week is our weekly round-up in which we look at our favourite:
Comments posted in our
Replies to our tweets
Messages in the VGC Discord server (join us!)
Comments on our YouTube videos
To qualify for Comments of the Week, a comment doesn't have to necessarily be amusing (though it certainly helps its chances). It can be a good point, an interesting observation or, on occasion, something so ridiculous it has to be called out.
It should go without saying, but if you want to have a chance of being featured in Comments of the Week in the future then be sure to comment on our articles, reply to our tweets, comment on our YouTube videos and join our Discord server. We'll take it from there.
Here's what made the cut this week.
---
Comments of the week
Here's why Deus Ex and Tomb Raider could thrive under Embracer
"My big hope (at least, from the fan side of things) is that Legacy of Kain gets a revival somehow. utterly nonsensical that that series has been sealed away since Nosgoth–which also deserved better, though it really couldn't done without the expectations of being a LoK title.
"Embracer, from a fan perspective, are a dream. they reinvest in cult series like Desperados, Gothic, Darksiders, Destroy All Humans! (my favorite), Aquanox, Saints Row (since that Agents of Mayhem, it's kinda fallen off a bit), and Jagged Alliance, while also giving new and weird IP's like Biomutant, Huntdown, El Hijo, SCARF, Midnight Ghost Hunt, and Valheim a shot.
"Currently, they are pretty benignly monetized AFAIK, and the prices are pretty fair for what's on offer. so as much as the inclination is there to assume that they are looking exclusively at the heaviest hitters like Tomb Raider or Deus Ex, it is entirely possible to see revivals for LoK and especially Thief, considering Embracer's emphasis on breathing new life into cult series."
It's certainly going to be interesting to see what happens, Matthew Werner, but given development times it may be at least a couple of years until we find out.
---
"I doubt that's the real reason. I remember connection issues, launching issues, Halo Infinite, crap and short single player, Warzone being free to play and Activision being Activision in which they release the same game everytime."
It does only say "partly" to be fair, VXGAMING. It's just that there seem to be a lot of parts.
---
NFT sales 'have declined 92% since their peak'
"Good! Maybe now we can all move on to the next money-laundering scheme, like, idk loot boxes with crypto inside that only works as in-game currency, but you can invest it on exclusive gear that then can be sold for real-world crypto through an online battle-royale-style auction house."
I'd say "don't give them ideas", Paulo Bojalil, but I'm trying to get my head around what the idea actually is first.
---
Reggie Fils-Aimé claims Nintendo of America was 'forced' to launch Game Boy Micro
"The Game Boy Micro was actually fantastic and is without a doubt, the best pure gaming handheld of a generation. Even with the DS, DS Lite and 3DS, the refinement of the Micro is to a level that very few consumer devices ever reach
"If you are a fan of the Gameboy Advance, it's the single best system to play them on to this day."
Well said, Jamtea. All hail the Micro.
---
"Embracer Group has slowly been building a gaming empire. I've a hunch Microsoft is going to buy them eventually."
If it wants to then it'll need to dig deep, Maruf Hasan. Embracer is worth about $8.3 billion.
---
24 hours after release, a Switch Sports player has already smashed their TV
"Joy Con straps are apparently available for just $4. It should be a no brainer of a purchase, unless I guess the player has no brain."
Even better, rogueCortex, they come free with the Switch.
---
Leaked Skull & Bones video details the long-delayed pirate adventure
"Just make a Black Flag 2 Ubisoft!! That would be amazing!"
There already is one, Stoned Patrol! It's called Assassin's Creed: Rogue.
---
Tweets of the week
Which one though – Waterfalls or No Scrubs?
---
But that's not… never mind.
---
Only if you had a comfortable seat.
---
To be fair, he's recently shown he can still boot a backside.
---
Bit harsh, no? Where does "time and time again" come from?
---
Oh. Oh no. What have you done.
Related Products
Other Products
Some external links on this page are affiliate links, if you click on our affiliate links and make a purchase we might receive a commission.