How upgrading my PC desk made life less stressful, even though it landed on my head
The FlexiSpot GD01 is a good example of how a new desk can improve your gaming environment
Chris Scullion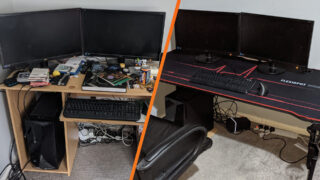 This is a blog post, where VGC writers post irreverent and (occasionally) entertaining coverage of video game culture.
It's often said that a clean house is a happy house.
While I generally go along with that statement and do my best to make sure it applies to my own life, I have to confess that for years I've been slacking in one particular area – my PC set-up.
I've been using the same ageing PC desk since I was a university student, and it's certainly safe to say I've had my money's worth.
When I moved to London in 2006 to start my games journalism career at Official Nintendo Magazine, my desk came with me (albeit in a removal van). Every time I moved to a new flat it came too, and when my wife and I finally decided to move back to Scotland, so too did the desk.
Now that I'm at VGC, working from home is very much going to be the norm for me going forward. While this suits me to a tee, the desk was preventing this from being an ideal situation.
Basically, the thing's a mess now. The wooden trim round the size has been torn off over the years, leaving a rough wooden section that constantly tears the material on my desk chair, the little extendable tray for my keyboard doesn't retract any more and the thing's just far too small now for a multi-screen set-up.
I finally made the decision that many PC game players around the world eventually make at some point in their life – it was time for a desk upgrade.
As luck would have it, the folks at FlexiSpot offered to send us its new GD01 desk, dubbed an 'Ergonomic Gaming Desk with Mouse Pad', to see if it does the job for PC gaming, so I decided to take them up on their offer. After nearly 20 years, it was time for Ol' Desky (a name I never used for it) to die.
Setting up the GD01 wasn't without its issues. The supplied instructions named the screws incorrectly and the diagram showing each part was also wrong, meaning there's a bit of guesswork needed to get the thing built.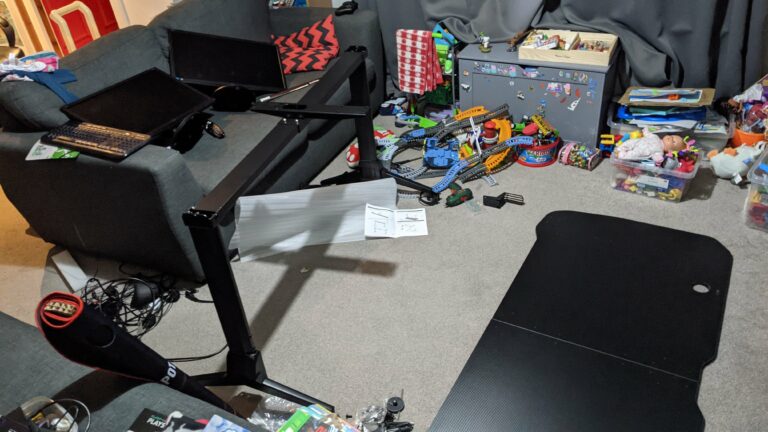 The site also claims "you can adjust the desk height between three different settings 28″, 30″, and 32″ in a simple and easy way", but that certainly wasn't the case from my experience.
After realising I had set the desk way too high, I started loosening the screws to lower the legs, as suggested in the instructions. As soon as I loosened the last screw in the first leg, the whole thing gave way and landed directly on my head, dazing me for ten minutes. So that was fun.
Basically, if you decide you want to lower the height of the desk, it isn't "simple and easy" – you're going to have to turn the desk upside-down (easier said than done when it's in position already), move the legs then turn it back the right way, in order to avoid a potential concussion.
Once it was finally set up and the paracetamol had kicked in, though, I must admit I was happy with the results. There's far more space in this desk, and it doesn't have any harsh corners. It's got a hook to hang my headphones on, and even has a little cup holder. At least, it says it's a cup holder, but I know better.
As for the 'mouse pad' it comes with, it turns out it's one of those desks where the entire surface is one massive mouse mat, meaning you can freely move your mouse around wherever you like on the desk. I appreciate that for some this isn't anything new, but for a guy who's been out of the desk loop (if there's such a thing) for the past two decades it's a revelation to me.
It's surprising how a new piece of furniture like this can transform the way you play games (and, in my case, the way I work). When I had my old desk I made do with what I had, but this new desk helps me arrange everything in such a cleaner way and my productivity is certainly benefitting from it.
When you think about all the peripherals you need when playing games on a PC you tend to think of all the obvious stuff – a good mechanical keyboard, a responsive mouse, maybe a wireless controller, a comfy gaming chair, decent quality monitors.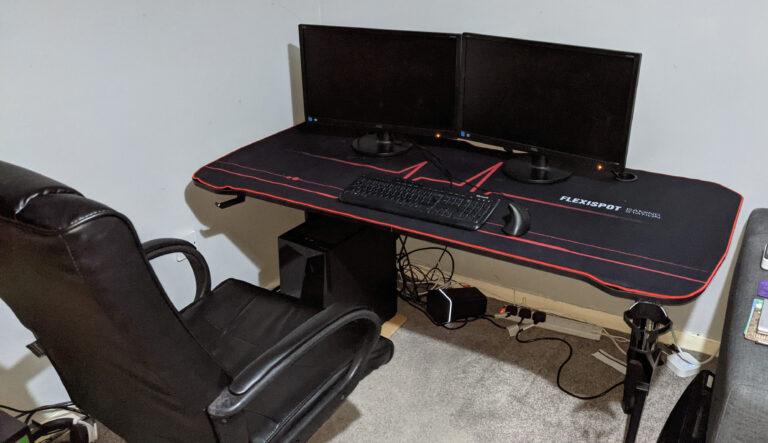 The desk you use is often near the bottom of the priority list – it certainly was for me – but it's safe to say that while I had some teething problems setting this new one up it's definitely made both working and playing PC games a far more enjoyable and less stressful experience.
So, if you were like me and have been using the same decrepit desk for decades and are trying your best to blissfully ignore it falling apart around you, it might just be time for a new one.
You may not think you need one, but neither did I, and look at where I am now. Well, sitting more or less in the same place as before, that's where. But with a new desk, is my point.