Blog: I asked Hideki Kamiya all the questions he blocks you for on Twitter
Andy Robinson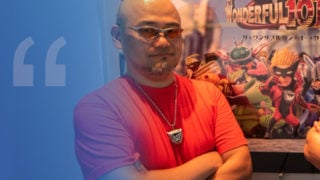 This is a blog post, where VGC writers post irreverent and (occasionally) entertaining coverage of video game culture.


Hideki Kamiya's social persona is very different from how he appears in real life.
In interviews, the Bayonetta designer projects a quiet, friendly personality, which somewhat flies in the face of the all-caps, zero-tolerance super-troll we recognise from his Twitter account.

Kamiya famously has a set of rules pinned to his Twitter profile, warning followers not to ask repeat questions or even tweet him in English. "MY BLOCK BUTTON IS BIGGER THAN EVER," he warns.
So when I had the opportunity to speak to Kamiya in person recently, I simply couldn't turn down the chance to ask him almost every question that would normally see me blocked from his social media channel:
Finally Kamiya-san, we thought we would take the opportunity to ask you some questions which, according to your own Twitter rules, would get us blocked from your account.
Kamiya: (Laughs) The biggest thing for me is that people don't properly read my previous or pinned tweets before asking a question. I may have just answered something and then somebody comes along and asks me again, so they're banned!
Firstly, we've been conducting this interview in English, so that would see us banned.
Kamiya: When it comes to English, my profile says, 'no questions in English', so if somebody does that, I know they've not read the rules, so they're banned! Basically, do your homework before asking me a question. If you don't do your homework, you're getting banned! Actually, English isn't so bad, but read my previous answers before asking a question!
According to your rules, a request also gets you banned.
Kamiya: Oh no, requests are OK! Just not in English (laughs)
'No advice' is another of your Twitter rules, so we'd like to suggest a Famicom-themed reward tier for Wonderful 101.
Kamiya: Banned!
At the time of publishing this blog post, I've not been blocked. But with Kamiya promising to ban many of The Wonderful 101's 15,000+ Kickstarter backers, he has plenty in his sights.
Related Products
Other Products
Some external links on this page are affiliate links, if you click on our affiliate links and make a purchase we might receive a commission.