Blog: Half-Life: Alyx just added the most impressive booze physics in a game
Andy Robinson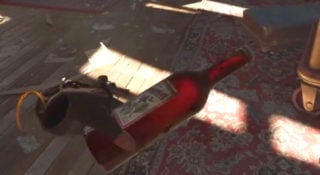 This is a blog post, where VGC writers post irreverent and (occasionally) entertaining coverage of video game culture.


They say simulating people is the hardest thing to pull off in 3D graphics, due to our extreme familiarity with how humans move.
If that's true, then simulating booze must be the second most difficult challenge for any visual effects creative to solve.
Incredibly, the latest Half-Life: Alyx patch has done just that, by adding a "boozy liquid shader" which simulates drink inside of the game's various wine and beer bottles.
Visual effects developer Matthew Wilde explained that the new shader effect required "lots of research" (burp) and had made up the bulk of his "hobby" work during the COVID-19 lockdown.
Bottles are a key tool in the VR title and are used for distracting enemies in one of its most memorable chapters. By the look of Wilde's gorgeous shader effects, it'll be players who'll be getting distracted now.
Wilde later revealed that the shader would require additional work in order for it to properly react to a late-game physics sequence.
This month Valve released the editing tools for Half-Life: Alyx, enabling the community to create its own levels, models, textures and animations for the VR shooter.
There is already a growing selection of mods on the game's community page, including fan creations based on Star Wars, Monsters Inc and more.
It's only a matter of time before somebody successfully simulates a strawpedo.