First Play: Watch us swing for our lives in Cursed to Golf
We see if Chuhai Labs' 2D golf side-scroller is up to par
Chris Scullion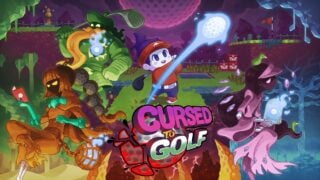 This is a blog post, where VGC writers post irreverent and (occasionally) entertaining coverage of video game culture.
It's been said that "golf is a good walk ruined".
But imagine how much worse that walk would be if you were strolling through purgatory and your return to the world of the living depended on how good you were with a set of golf clubs.
That's the premise behind Cursed to Golf, a side-scrolling golf adventure from Chuhai Labs coming to Switch and PC next year.
It's a good idea, but is the execution (pun always intended) up to snuff? Find out with us in our next First Play video below.
First Play is our new video series designed to shed light on new and upcoming games that may be hovering underneath the radar but are no less worthy of your attention.
For each First Play video, we'll run our capture unit, turn on our microphone and play each game for the very first time, meaning you get to experience them while we do.
For all intents and purposes, they will act like the initial stages of a review. If we see something like or dislike while we're playing, we'll call it out, and we'll give a summary of our initial views at the end of the video. Naturally, though, they shouldn't be considered a definitive verdict on the game – they're just a way for you to see what it has to offer.