'E3 hasn't been great for a long time now' – Comments of the Week
We round up the correspondence VGC has received this past week
Chris Scullion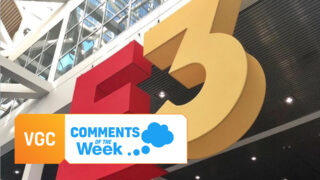 This is a blog post, where VGC writers post irreverent and (occasionally) entertaining coverage of video game culture.
We spend all week writing words for you, our dear readers, so it's only fair that we read the words you write back at us.
Comments of the Week is our weekly round-up in which we look at our favourite:
Comments posted in our
Replies to our tweets
Messages in the VGC Discord server (join us!)
Comments on our YouTube videos
To qualify for Comments of the Week, a comment doesn't have to necessarily be amusing (though it certainly helps its chances). It can be a good point, an interesting observation or, on occasion, something so ridiculous it has to be called out.
It should go without saying, but if you want to have a chance of being featured in Comments of the Week in the future then be sure to comment on our articles, reply to our tweets, comment on our YouTube videos and join our Discord server. We'll take it from there.
Here's what made the cut this week.
---
Comments of the week
'We're creating a Sonic cinematic universe', says movie producer
"You know? I don't mind it. They started strong, and took the time to actually improve it in its second outing.
"At a glance, it seems like a lot to have Knuckles solo, Tails solo, and Sonic 3 all confirmed before Sonic 2 is even out the door, but that's still not as rushed as DC.
"At least their two movies deserve the "highest grossing video game movie" title more than Uncharted. Oh god that movie :("
You mean the 'hilarious' Scottish henchman didn't do it for you, rogueCortex?
---
EA has reportedly greenlit decision to rename FIFA 'EA Sports Football Club'
"EA is taking a risky but necessary decision in leaving the FIFA branding on the hands of a potential competitor like 2K studios.
"In EA's advantage 2K is not very good at making sports games with zero experience in making a functional soccer game."
Don't forget, person who still insists on just having the 🗣🆘 emojis as a username, this happened in the past with Championship Manager. The name was left behind and the series was renamed Football Manager, and it didn't seem to do it any harm.
---
Sony has filed a new trademark for Knack
"Surely Knack is…KNACKERED by now?
I'll get my coat, as I'm off to Comments of the Week! ;)"
Not with a joke like that you won't be, Colin Burton. Actually, hold on, you are. Ugh.
---
'One of the brightest stars' in indie development, Mohammad Fahmi, has passed away at 32
"Coffee Talk was a thoroughly enjoyable game that I experienced during the lockdown/pandemic period, even helping me in a personal way too.
"Such a shame to see someone talented leave us so young."
Was certainly horrible news to get this week, Terry Sazio. Our thoughts are with Fahmi's loved ones.
---
Fast & Furious Crossroads is being pulled from sale less than 2 years after its release
"Can they also remove all the stupid movies in this godawful franchise? Send them out to space?"
Have a heart, RR – those cast and crew members have a *ahem* FAAAMMMMMILLLYYYY.
---
Pinball FX fans criticise plans for $150 of microtransactions and $15 monthly sub
"I just bought FX 3 and some tables a week ago. Wanted a break from intense shooters and thought pinball would be nice. And it is. But honestly, if I'd known about this company's plans to rip off customers, I would have skipped the whole thing. Definitely not buying into their BS predatory tactics."
It's definitely disappointing, RZach. At least Pinball FX3 appears to be sticking around for the near future.
---
Now E3 2022's digital event is cancelled too
"As much as I used to love the big showcases, it hasn't been great for a very long time now. Almost everything is spoiled before it's even announced and quite often, it's actually rather dull.
"It's still worth having occasionally though (particularly for hardware reveals) or if you can ACTUALLY keep a secret but otherwise, meh. Only thing I've watched lately is the PC showcase as this has been better for seeing interesting upcoming stuff."
Speak for yourself, Noobsaibot, we can't wait to attend the showroom floor again and try to avoid the horde of influencers standing in the middle of the room pointing cameras at themselves.
---
An Xbox Game Pass 'Family Plan' is reportedly coming soon
"That's great news, now I can play such amazing games as Sea of Thieves and Gears Tactics with my two beautiful adult sons, Dumb and Dumber!"
Did you name them after console fanboys, dingodile?
---
Tweets of the week
Got to admit, we just added this one because it sounds like a cartoon villain like Shredder talking to his henchmen.
---
To be fair, Mega Man is faaaaar from Capcom's most profitable IP.
---
Glad someone finally has the guts to say it.
---
An overused meme, sure, but it made us laugh this time.
---
Appropriately, Vin Diesel's face there is exactly how ours looked when we read that.
---
Got to admit, we're definitely tempted to jump into it too now that there's an action-only option.
---
And there goes that claim.
---
It can pray all it likes, but Knack can't be stopped.