Comments of the Week: 'Heihachi didn't die (multiple times) for this new Namco logo'
We round up the best of the correspondence VGC has received this past week
Chris Scullion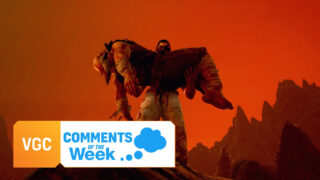 This is a blog post, where VGC writers post irreverent and (occasionally) entertaining coverage of video game culture.
We spend all week writing words for you, our dear readers, so it's only fair that we read the words you write back at us.
Comments of the Week is our new weekly section in which we look at our favourite:
Comments posted in our articles
Replies to our tweets
Messages in the VGC Discord server (join us!)
Comments on our YouTube videos
To qualify for Comments of the Week, a comment doesn't have to necessarily be amusing (though it certainly helps its chances). It can be a good point, an interesting observation or, on occasion, something so ridiculous it has to be called out.
It should go without saying, but if you want to have a chance of being featured in Comments of the Week in the future then be sure to comment on our articles, reply to our tweets, comment on our YouTube videos and join our Discord server. We'll take it from there.
Here's what made the cut this week.
---
Comments of the week
"Wow, $130 million dollars. This is so cool dude, it'll end up being just like Playstation Home but there'll be some Naruto avatar guy following everyone around and asking if they want to be his girlfriend."
We know you're trying to make fun of it, dingodile, but now we're sold.
---
"I understand the concern, to an extent. Gamepass is a closed system that holds content decided by MS. Getting on there might be difficult for a small operation.
"I love indie games but, just as with their bigger cousins, there's a lot of dross out there sitting with the diamonds. The problem highlighted is that MS are going to (potentially) be the arbiters of what is and isn't a good game.
"However, there are other platforms and, if a game is good, word of mouth and buzz will get it attention it irrespective of publisher/competition from AAA games."
It's a fair point, Caffeine Rage, but it's going to be harder to sell a new indie game (literally) to players when they've already got a full library of stuff at no extra cost.
---
"OH MY GOSH…this game looks amazing! What a way to end a Nintendo Direct. Thank you Nintendo and thank you Monolith Soft for the Xenoblade series."
Yes, yes, but what about… hang on. A positive comment, the1sanj? About a video game? We don't know if anyone's told you, but this is the internet.
---
Tweets of the week
Believe it or not through @GamingMitch1990, 1-2-Switch actually sold more copies than Arms. We agree that Arms was more fun, though.
---
So we'd assume you didn't attend the leaving party then, @Not_the_chef?
---
Listen, @JupiterDawg, maybe some of us just like rain that looks like it's being fired out of a chain gun.
---
You got there eventually, @MyoMyoriko.
---
Well, at least @AgitatedAdeki is the only person who thinks an extremely niche thing is the solution to this. Hold on, who's this coming up next…
---
Right, @BobcatMascot too. That's all though.
---
Maybe the red is a reference to the bottom of the cliff, @almostgames.
---
Um… how do you think opponent cars drive in every other racing game, @SpectreBull?
Related Products
Other Products
Some external links on this page are affiliate links, if you click on our affiliate links and make a purchase we might receive a commission.